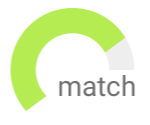 Haven't found the job you are looking for? Use our new smart new Job Match tool to find your next opportunity.
Allentown
Permanent
USD110,000 - USD140,000
MPI does not discriminate on the basis of race, color, religion, sex, sexual orientation, gender identity or expression, national origin, age, disability, veteran status, marital status, or based on an individual's status in any group or class protected by applicable federal, state or local law. MPI encourages applications from minorities, women, the disabled, protected veterans and all other qualified applicants


Opportunity for an individual looking to join a growing, global firm
Outstanding collaborative work environment with future growth opportunities
Chicago
Permanent
USD130,000 - USD150,000
Our client is a growing company looking for an Accounting Manager who will act as the right hand person to the Controller, along with reporting to an international C-Suite team. The Accounting Manager will manage a team of four and have exposure to all areas within the accounting and finance team.
Work closely with the Controller and C-Suite Team
Perfect role for anyone trying to attain the role of Controller
Chicago
Permanent
USD90,000 - USD110,000
Our clients is looking for a Senior Cost Accountant who will work with a steel manufacturing company in Chicago, IL. This person will work side by side with the controller and CFO in order to help with budgeting and cost maximization.
Work directly with the controller with an easy path for promotion after 3 years
4 weeks PTO
Chicago
Permanent
USD100,000 - USD130,000
Accounting Manager position that will be working with the Controller along with an international C-Suite team. The Accounting Manager will have exposure to various areas within accounting and finance. You will manage a team of 4 that works on everything from accounting for inventory, monthly close, assisting with treasury functions, and various ad-hoc projects.
Work closely with Controller and C-Suit Team
Perfect Role for anyone trying to attain the role of Controller