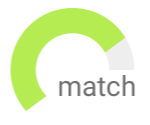 Haven't found the job you are looking for? Use our new smart new Job Match tool to find your next opportunity.
Torrance
Permanent
USD150,000 - USD180,000
Passionate sales professional to spear-head and expand operations across North America for cutting-edge robotics and aeronautics manufacturing. Freedom to work autonomously and efficiently.
Company is rapidly expanding their North America Operations
Competitive Salary Range and Benefits package.
Torrance
Permanent
USD150,000 - USD180,000
Driven sales professional looking to lead the day-to-day operations and expansion for a fast-growing robotics and machinery manufacturing company. This person will need the ability to work autonomously and efficiently drive growth in existing accounts as well as bring in new business.
High-Growth manufacturing and robotics company looking for Sales Manager
Hybrid work model in the Torrance, CA
Sacramento
Permanent
USD130,000 - USD160,000
General Contractor is seeking Construction Superintendent with expertise in supervising commercial and multifamily construction sites, coordinating trades, supervising subcontractors, ordering building materials, participating in job-site coordination meetings with the architect and owner.
Competitive Salary for a Sacramento Superintendent
Opportunity to work on major projects in Sacramento
Anaheim
Permanent
USD95,000 - USD110,000
My client is looking for a Manufacturing/Production Manager who will oversee the production activities across 3 shifts of operation.
Great compensation
Room for Growth and Development
Our client is looking to recruit a Healthcare Investment Director who has investment experience in the Silicon Valley, who can speak Chinese and English. This role is ideal for someone who has Venture Capital experience and an advanced education is healthcare biotechnology.
Nurture growth-stage companies within healthcare
Seed funds and VC funds across the US and China
El Segundo
Permanent
USD120,000 - USD135,000
The ideal candidate will strategically create products from ideation to conception. This person will maintain and own several projects and timelines.
Growth opportunity in cosmetic manufacturing
Work from Home Flexibility
Los Angeles
Permanent
USD150,000 - USD200,000
As the Director, Healthcare Logistics Operations, you will lead a network of distribution facilities across the West Coast. You will make an impact across the organisation by developing, implementing and leading successful customer operations. You will direct and control activities in multiple facilities, while managing complex accounts and large numbers of employees, to ensure efficient and economical processes for storing and distributing inventory.
Global, market leading pharmaceutical organization
Excellent opportunity for career growth
San Diego
Permanent
USD165,000 - USD190,000
The Renewable Energy - Snr. Manager, Portfolio Finance - San Diego, will report to the Director, Portfolio Finance and be responsible for managing commercial matters with financing parties for multiple projects within the renewable project portfolio - including fundings / term conversions of debt, cash equity and tax equity.
Renewable Energy, Utility-Scale Developer/Owner/Operator.
Over 8 gigawatts of assets under operation!
Santa Monica
Permanent
USD110,000 - USD135,000
The QC Laboratory Manager will be in charge of ensuring that all products meet the company standards; this person will review SOPs and work instructions and provide to QC Lab Lead for approval. This person will report into the VP of Quality.
Salary up to $135k
Creative Beauty Brand
San Francisco
Permanent
USD1 - USD10
You will have the opportunity to join a rapidly growing Investment Firm and implement new policies and procedures within the finance/accounting function. This person will oversee a group of 4-6 accounting professionals and report directly to the VP of Finance.
Great opportunity with growing investment firm in San Francisco
Great opportunity to implement new processes for growing team
Create job alert to receive Vice President jobs via email the minute they become available
You will report directly to the Vice President of Supply Chain and, in this role, you will be analyzing competitor pricing, evaluating freight/shipping lanes, preparing market share and revenue forecasts, and comparing the outcomes of different pricing strategies.
High Career Growth Potential with Packaging Company
Competitive base salary, bonus, benefits, and growth potential
Lakewood
Permanent
USD180,000 - USD210,000
The Sr. Engineering Manager will report to the Director of Engineering and New Product Introduction and oversee an engineering team of 15 people including 5 direct reports. This team is focused on low volume design and manufacturing of high-performance custom-tailored products for automotive performance for motorsport and aftermarket. The Engineering Manager will be customer facing and have ownership of the opportunity pipeline as well.
Leading Global Automotive Supplier
Highly Visible Customer Facing role for High Performance Automotive
San Diego
Permanent
USD140,000 - USD160,000
The Utility-Scale Solar - Senior Project Manager - Remote will work for a Battery Storage organization based in the Americas. The Project Manager (Contract) will work with the Battery Storage organization based in the Americas, reporting to the Director, Project Management Americas.
Join the leading IPP in N. America, working on large Utility-Scale projects.
8+ years of Solar/Storage Owner's side PM exp. with great career upside.
USA
Permanent
USD80,000 - USD110,000
My client is one of the top restaurant developers in the country and they are looking for a Construction Manager to watch over the General Contractor and Superintendents on their projects. This person will work alongside the President and the Director of Construction to ensure that their projects are completed on time and under budget.
Great opportunity to work as an Owner's Rep
Above Industry Standard Benefits