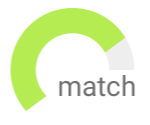 Haven't found the job you are looking for? Use our new smart new Job Match tool to find your next opportunity.
Bloomington
Permanent
USD80,000 - USD100,000
This owner's representative will be sitting at one of the community colleges in Central IL. You will be working for a general contractor but reporting directly into the Director of Facilities at the college. The projects are ground-up and interior/renovation projects.
Work for GC but as an owner's rep
Excellent reputation in the industry
Bloomington
Permanent
USD100,000 - USD130,000
Excellent opportunity to work for one of the Twin Cities area's premier General Contractors. This reputable company boasts a positive company culture, an excellent work/life balance, and a strong pipeline of diverse projects. They are looking to add an Estimator to their commercial construction team who will grow within the department to help lead the pre-construction team!
All qualified applicants will receive a call within 48hours of applying!!
Opportunity to work with one of the most reputable companies in the area
Highly flexible work environment that provides great work life balance