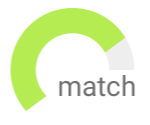 Haven't found the job you are looking for? Use our new smart new Job Match tool to find your next opportunity.
This position interacts with customers to provide information in response to inquiries about products and services and to handle and resolve complaints. Excellent communication abilities and data entry skills are essential for candidates.
High Growth Opportunity
Entry Level
New York
Temporary
USD800 - USD950 per day
The ideal candidate will possesses a great attitude, and operate with a mindset of urgency, ownership, initiative, communication, service and partnership.
Leading Financial Services Firm in New York, New York!
Competitive Rate, Long Term Contract!
New York
Permanent
USD85,000 - USD125,000
Fantastic opportunity at a top tier investment bank providing full trade life cycle operational support Global equity trading desks.
Join a Global Investment Bank in Midtown NYC
Top Tier Investment Bank
New York
Permanent
USD120,000 - USD140,000
Trading Application Support

Responsible for maintaining application systems that are beyond the development stage and are running in the daily operations of the firm.y.Responsible for the day to day operation of the US trading systems and be the go to person for Trader support.

Analyze issues, debug logs, verify issue, draft requirement or solution, track resolution, verify and implement
This role is mostly trading system support.
Opportunity to understand the full scope of Trade flow internally
New York
Temporary
USD51,996 - USD54,075
Plan and manage social media campaign's for a large non profit organization. Fast paced work environment.
6 Month Contract 2-3 days in office in NYC
Large non-profit.
New York
Permanent
USD55 - USD60
The Administrative Associate will support up to three lead Recruiters for a global recruitment firm located in the heart of the Manhattan. As the Administrative Associate you will be directly supporting fast paced Recruiters, ensure their days are running efficiently and assist with the recruitment cycle.

This role is full-time, hybrid, and will be based in Manhattan. Applicants must be vaccinated against COVID-19.
Must be located in the Greater NYC Area
Administrative experience is highly preferred
Denver
Permanent
USD65,000 - USD75,000
The Sales Administrator will work on administrative and sales tasks to support a well known software development company in the greater Denver area. The Sales Administrator will work on a team with members all across North America in a collaborative environment.
In office 2 days a week
Must be located locally to Denver
Yonkers
Temporary
USD31,197 - USD51,996
The organization is looking for an eager individual to take on administrative tasks. This will be a temporary contract role able to be available immediately.
Opportunity to Start Professional Career & Grow Work Experience
Great work environment with benefits provided
New York
Temporary
USD30 - USD65,000
Pick up on assignments that have been left open while taking on new projects. Will be primarily remote to start then convert 2 -3 days in office
Join a small team at a growing Media Company within their legal team.
Must be able to commute to FIDI
New York
Temporary
USD45,756 - USD51,996
Administrative Assistant supporting two Rabbi's within a large nonprofit within the New York City.
Hybrid in office and work from home opportunity.
Nonprofit organization.
Create job alert to receive Office Support jobs via email the minute they become available
Santa Monica
Permanent
USD55,000 - USD60,000
Reception/Office Assistant role supporting a team of a real estate investment company. This role includes a lot of organizing and keeping the office running smoothly.
Great team and growth opportunity
In office 5 days a week
New York
Temporary
USD60,000 - USD65,000
Work in a fast paced environment that is extremely dead line driven. Seeking an individual who is professional across all forms of communication and confident on the phones.
Seeking an experienced Administrative Assistant to assist Communications team.
Previous experience working in Professional Services is necessary.
Newark
Temporary
USD35,357 - USD41,596
Our client is seeking a Front Desk Receptionist & Office Administrator to support their New Jersey office. This role will be Part Time, in-person on a contract to hire basis. The hours and days will be flexible and the ideal candidate will be reliable, adaptable, proactive and have previous Administrative Support experience.

Applicants must be vaccinated against COVID-19 to be considered.
Must be able to commute to Newark, NJ
Flexible working hours + days
Chicago
Temporary
USD50,000 - USD55,000
Take on office administration tasks while sitting as receptionist. Work part time with the potential to go permanent and full-time based off of performance.
Part time role with potential to go permanent based off of performance.
Join a global digital software firm located in Chiacgo's West Loop area.
Seattle
Temporary
USD47,836 - USD49,916
Must be dedicated to supporting investment diligence & monitoring multiple processes at once all of which hold the same high importance. Participate with data entry and running multiple reports through a variety of software's.
This is a year long contract in Seattle, Washington - 5x in office
Join an established & reputable finance company
Miami
Permanent
USD40,000 - USD50,000
A well known construction developer in Miami is looking for a polished executive assistant/receptionist/secretary.
Strong company culture
Great pay and benefits
New York
Temporary
USD60,000 - USD650,000
Support the VP of Communications within a Non-Profit Organization. The duties include an array of administrative tasks.
Hybrid work schedule that is temp to perm based off of performance
Seeking an Administrative Assistance with 3-4 years experience
New York
Temporary
USD41,596 - USD51,996
Provide Administrative, Reception, and Hospitality support for the Studio. Must be willing to lend a hand in a variety of different sectors of the Studio such as; IT, Finance, and HR.
Oversee and ensure a flawless operation of studio support functions
Coordinate with Finance, IT, and HR - General Admin for all facets of company
Manhattan
Permanent
USD65 - USD70
Michael Page is seeking an On-Boarding Specialist to support our North America & Canada business. This role will sit in either NYC or Stamford, CT and will handle the on-boarding for all contractors through Michael Page. Qualified applicants should be proficient using ADP, understand W2/1099 on-boarding, and I9 documents. This is a permanent position and will be hybrid in-office and remotely.
NYC or CT
Must have on-boarding experience
Manhattan
Permanent
USD45 - USD48
A Upper West Side school is seeking an Administrative Assistant to support their school, faculty, parents, and executives. They are seeking a reliable, team player candidate, whose mission aligns with their own. This is a direct hire opportunity and qualified applicants must be fully vaccinated and able to commute to Manhattan Monday to Friday. The hours are 7:45AM to 3:45PM.


Must be vaccinated to work in New York City
Location: Upper West Side
Falls Church
Permanent
USD15 - USD52,000
Our client, located in Falls Church, is seeking a Receptionist to join its growing team.
Seeking a Receptionist
Growing Firm in Falls Church, VA
New York
Temporary
USD51,143 - USD56,155
Opportunity to work for a large organization in Manhattan, NYC. Front desk and administrative support work.
In office, NYC.
Monday-Friday.
Morristown
Temporary
USD37,437 - USD41,596
This role is perfect for someone wanting to start out in a supportive role with the opportunity to become a permanent position based off of performance.
Opportunity to work in person.
Morristown NJ.
New York
Temporary
USD40,000 - USD45,000
Take on the responsibilities of receptionist at one of Page Group's leading finance clients. Phone management is crucial with this role, must have great note taking skills.
Temp to Perm Opportunity Based off Performance
Tier One Hedge Fund - Successful & Growing Company
Yonkers
Temporary
USD31,197 - USD51,996
Our client is a nonprofit organization, located in Yonkers. They are seeking an Accounting Assistant ASAP to handle administrative responsibilities. This role is 100% in office, and requires candidates to be fully vaccinated.
Opportunity to Start Professional Career & Grow Work Experience
ASAP Start Date with Medical Benefits Provided
Manhattan
Permanent
USD45,000 - USD56,000
As the administrative assistant, your job will be to provide support to our HR and Finance team. Your duties will be revolved around handling scheduling requests, assisting with ad hoc duties such as office maintenance and answering phone calls.
Hybrid Role - Based in New York
Contracted Role with Potential to go Permanent
New York
Temporary
USD41,991 - USD49,916
This role supports the Director of Development, requires database knowledge.
6 Month Contract 2-3 days in office in NYC
Large non-profit.
New York
Temporary
USD47,836 - USD72,794
This is a three month contract that can go permanent based off performance. Will be providing exceptional admin assistance supporting an executive
Support the Client Services Team within a global banking company.
Must be fully vaccinated and able to go into office five days a week.
New York
Temporary
USD62,395 - USD72,794
Provide exceptional task management to assist the marketing team within an established finance company. Ideally this role will grow within the marketing field as this is an entry level role.
Must be able to work in New York City full time - Must be vaccinated.
Previous Administrative experience specifically in the marketing space.
Bronx
Temporary
USD47,836 - USD49,916
This role is responsible for the management of building operations, located in Bronx, NY.
In person opportunity, may require nights and weekends.
Nonprofit organization.