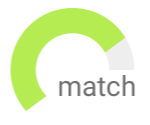 Haven't found the job you are looking for? Use our new smart new Job Match tool to find your next opportunity.
Oak Creek
Permanent
USD80,000 - USD100,000
The process engineer will help with setting up manufacturing processes such as soddering, and coating and and work to continuously improve multiple aspects of the product line. This role will be highly autonomous and report directly to the process engineering manager.
Room for internal growth both vertically and cross-functionally
Client with long-standing relationships with top players in the OEM space
Milwaukee
Permanent
USD120,000 - USD140,000
Our client is a producer of medical devices in the electronics space, primarily manufacturing circuit boards. They are currently promoting their Site Quality Leader from within and looking to bring in someone to fill their role.
Lead the quality department as head of the division
Significant growth opportunities
Milwaukee
Permanent
USD100,000 - USD115,000
Our client is a global leader in circuit board manufacturing for the Aerospace and Medical Device industries. This position is mapped out to grow into the Site Quality Manager after training has completed.
Great benefits package including 6% bonus
Strong progressive culture, significant growth opportunity
Milwaukee
Permanent
USD115,000 - USD165,000
The Engineering Project Manager will be responsible for engineering project management for mobility and vehicle platform engineering projects executing product development and project timelines. The Project Engineering Lead will report to the Chief Engineer and be a part of 20-person engineering team. This person will be leading a team of 6-12 engineers depending on the project.
Engineering Project Manager in Mobility with Future Growth Opportunity
Highly Visible role reporting to the Chief Engineer