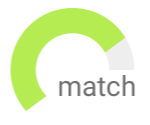 Haven't found the job you are looking for? Use our new smart new Job Match tool to find your next opportunity.
Fort Myers
Permanent
USD55,000 - USD65,000
Our client, located in Fort Myers, is seeking a Project Accountant on a contract basis.
Seeking a Project Accountant
Growing Firm in Fort Myers
Orlando
Permanent
USD95,000 - USD120,000
The Test Engineer II will be responsible for engineering efforts needed to successfully process product through the Test and Burn-In departments to include, but not limited to, the design and development of all necessary test hardware and software. Help maintain and control the use of the Automated Test Equipment (ATE), standard bench test equipment, ovens, and other department equipment used within the Test and Burn-In departments.
Do you have experience working directly on Automated Test Equipment?
Any experience with with linear products?
Orlando
Permanent
USD120,000 - USD150,000
The Sr. Test Engineer will perform functions to develop test software and design interface hardware for a variety of automated test equipment to test microelectronic products to customer specifications, train entry level Test Engineers, and perform supervisory duties in absence of manager, working within the limits of established policies.
Have you worked directly on Automated Test Equipment?
Do you possess linear product experience?
Tallahassee
Permanent
USD75,000 - USD100,000
· You will be the face of Paradigm, representing, implementing & ensuring success of digital sales & adoption strategies within the residential home building industry.

· You will identify leads to develop & increase opportunities for project business (homebuilders, trade contractors, generals, developers, interior designers, architectural firms, etc.), weekly CRM documentation will be expected/communicated to sales leadership.


Join the growing construction and building software industry!
Work with top enterprise brands
Tampa
Permanent
USD100,000 - USD115,000
This position will manage the procurement team for packaging products in all buying activities. Working with the different products, the Procurement Manager will work cross-functionally to help manage the company's Sales Inventory Operations Planning (SIOP) for assigned products.
Strategic Sourcing position with a Global Manufacturer
Opportunities for career growth and personal development
Florida
Permanent
USD150,000
Manage regional P&L and working capital in accordance with agreed to target and expectations.

Developing a culture of proactive sales management.
Lead the sales organization and provide oversight for the 3 districts
Responsible for delivering Sustainable Growth for both Sales & Operations
Florida
Permanent
USD75,000 - USD85,000
The Marketing Automation Specialist/Manager will be the go-to person for all Pardot related initiatives. They will work cross functionally with marketing, sales, and business operations team to create strategic and engaging campaigns.
Opportunity for Manager title for candidates exceeding minimum qualifications
Point person for marketing automation, reports to the Director of Marketing
Orlando
Permanent
USD110,000 - USD115,000
The Facilities Supervisor will be responsible for planning, coordinating and managing compliance and maintenance of the work site. Monitor building maintenance, security and code enforcement compliance for the business.
Eager to oversee a new state-of-the-art facility?
Do you possess strong electrical power installation exp?
Riviera Beach
Permanent
USD110,000 - USD130,000
The Quality and Regulatory Manager will provide overall company leadership and direction for Quality Assurance and Regulatory Affairs Systems, encompassing both improvements and sustaining activities. Objectives involve ensuring patient and employee safety and the achievement of customer quality requirements, create, monitor and improve quality systems/programs, and reduce quality costs for + $40 million in annual sales.
Leadership opportunity in one of biggest Precision Manufacturers in the Market
Terrific Growth Opportunity
Gainesville
Permanent
USD60,000 - USD100,000
Are you looking for your next Accounting opportunity as a Staff/Senior Accountant with a Manufacturing & Biotech company? Do you have 1+ years of experience in Public Accounting or even better, Big 4? Do you have your CPA? Do you want to work for a startup company in high growth mode? If so, please apply to the Staff/Senior Accountant - Manufacturing position for further consideration based in FL.
95% Remote Only FL Candidates should apply
Quick hiring process - opportunity to make a move before the busy season starts