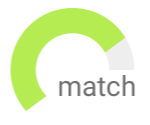 Haven't found the job you are looking for? Use our new smart new Job Match tool to find your next opportunity.
Project Manager is generally responsible for one large project and/or multiple smaller jobs with primary responsibility and accountability for the financial, schedule, quality and safety objectives for the projects
Rapidly growing company
Great company culture
Actively seeking a Construction Project Manager, experienced in retail remodels to oversee each project from conception to completion
Well known company
Great Benefits
Jointly responsible with the Project Manager for the overall success of the project. Responsible for meeting schedule, controlling costs, and managing manpower and equipment (if applicable) on assigned project. Provides continuous hands-on field supervision of all construction operations, including subcontractors and other construction related personnel; directing them in the planning, within budget, and with high standards of workmanship.
Well established company with a solid future pipeline and multiple projects.
Great benefits and compensation
This Pittsburgh-based construction company is a leading General Contractor/Construction Manager, They are a leader in the Pittsburgh market with many excellent clients and a steady pipeline of commercial projects.
Competitive pay and benefits, strong work load
Advancement opportunities
Our company currently has an opportunity for a skilled, dedicated, results oriented Junior Estimator. Ideal candidates' primary responsibility is to is to support and assist the Sr. Estimators in preparation of bids and estimates by performing take-offs, data input, product research and follow ups.
Established company, good pipeline, exciting projects
Great benefits and compensation
Pittsburgh
Permanent
USD65,000 - USD95,000
This well-known Contractor is seeking an experienced Construction Multi-Family Project Manager to oversee a strong pipeline of projects from concept to completion across a variety of markets including Texas, Ohio, Pennsylvania, and New York.
Work with a extremely reputable developer known nationally.
Direct exposure to upper management
Excellent opportunity to work for one of the area's premier General Contractors! This reputable company boasts a positive company culture, an excellent work/life balance, and a strong pipeline of projects. They are looking to add an Estimator to their commercial construction team who will grow within the department to help lead the pre-construction team.
Top growing company, stability
Room for personal development
This Pittsburgh-based construction company is a leading General Contractor, established more than 40years ago. They are a leader in the Pittsburgh market with a track record of excellent clients and a strong pipeline of diverse commercial projects.
Top growing company, stability
Room for personal development