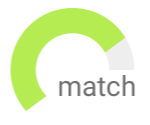 Haven't found the job you are looking for? Use our new smart new Job Match tool to find your next opportunity.
Manhattan
Permanent
USD125,000 - USD140,000
Our client is seeking a self-driven individual to join their legal department. This individual will serve as a liaison between the investment management team and outside legal counsel, and will be a part of matters relating to transactions, agreements, and documentation. The ideal candidate enjoys working in a collaborative fast-paced environment and is ready to grow within an organization.
Opportunity to join a firm that offers a hybrid working enviroment
Opportunity to join a firm that offers future growth opportunities
New York
Permanent
USD60,000 - USD75,000
You will be joining a collaborative and competitive team in recruitment sales. In a fast paced sales environment, aiming to represent numerous opportunities to your candidate.
Work hard play hard culture.
Opportunity to build your own book of business
Chicago
Permanent
USD100,000 - USD150,000
The Senior Estimator will use their expertise to secure work with current and new clients with one of our General Contractors in Chicago. This person will be responsible for preparing detailed estimates, determining material and equipment costs, calculating complete takeoff for scope of work, and more. They will oversee the department and have the opportunity to help the company grow. THIS OFFERS OWNERSHIP INTO THE FIRM
Growth opportunity with a company that has a strong pipeline
Generous compensation, ownership opportunities, and strong bonus
Chicago
Permanent
USD100,000 - USD150,000
Working with a firm in the Chicago suburbs who is in need of a client facing, motivated, and hard-working PM that has government/federal/ or public work experience who can handle a client facing role.
Room for growth & ability to work on different projects
Strong pipeline of work ahead - opportunity for ownership in the business