To avoid their resume getting lost in a stack of resumes, many job seekers search for different ways to have their resume appear distinctive. Whether that be with eye catching fonts, standout colors, or unique design. In fact, it is almost always better to stick to one of the standard types of resumes when applying for professional and managerial positions.
The Chronological Resume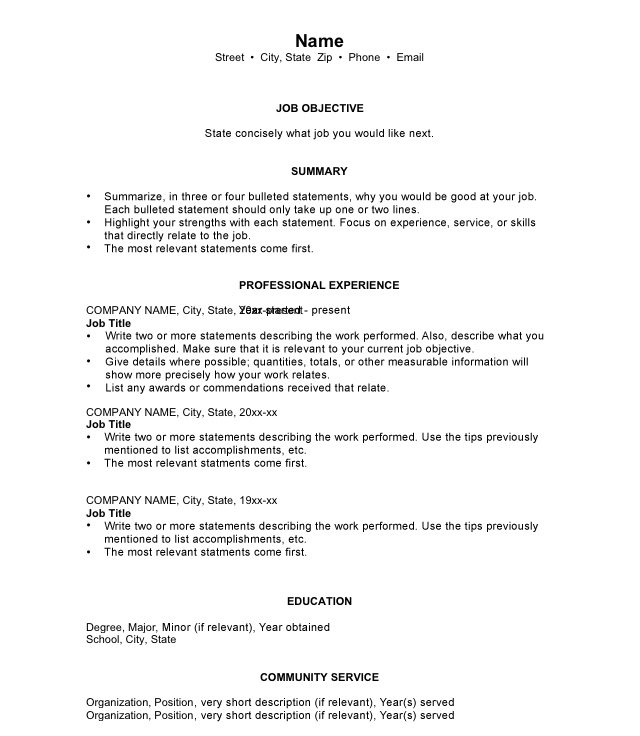 The most common type, this resume gives greater attention to your most recent experience while at the same time showing increasing degrees of responsibility and variations in work environments. It enables you to demonstrate progress in your career and to highlight the extent of your specialization and the skills you have used within each position. It also helps to indicate what you have accomplished within particular roles or environments. These enable you to stand out from the competition. Employers often view high performers with special interest.
Chronological formats are an important and convenient way of showing what you have achieved and experienced during a stable and progressive career. A brief scan identifies the quality of credentials, level, and range of experience, job and sector movement, and the nature of your achievements.
However, the chronological resume format is far less valuable if you have had numerous job changes, or perhaps false starts in different sectors, and where your performance has been variable or undistinguished. A probing interview is likely to highlight some of your performance deficiencies as well as raising doubts about your goals and commitment. In this case, you would be well advised to consider the functional resume format which will enable you to focus more sharply on the skills you possess and prefer to use.
The Functional Resume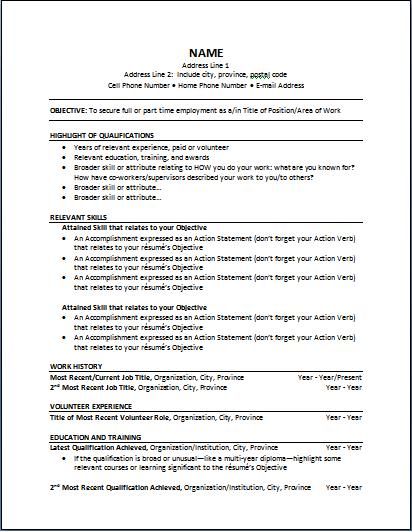 Your format here will be rather different from that of the chronological resume. The approach changes to one where you are giving far greater emphasis to your key skills and potential. At the same time, you are also de-emphasizing your lack of experience or gaps in your employment history.
A functional resume can be more suitable if you have various but unrelated sets of work experiences and wish to focus on your overall personal qualities (adaptability, rapid learning ability, getting on with people). Employers tend to view functional resumes rather more critically, as they are likely to demonstrate a lack of experience, they do not show consistent career progression within a role or sector and they give scant attention to job titles and the nature of the actual job within the organizational structure. They are also far less common than their chronological counterparts and require far more effort on your part if you are to tailor them to show exactly what benefits you can bring to an organization. They tend to suit applications for more creative jobs, where an emphasis is put on the applicant's skills, not their employment history.
The Combination Resume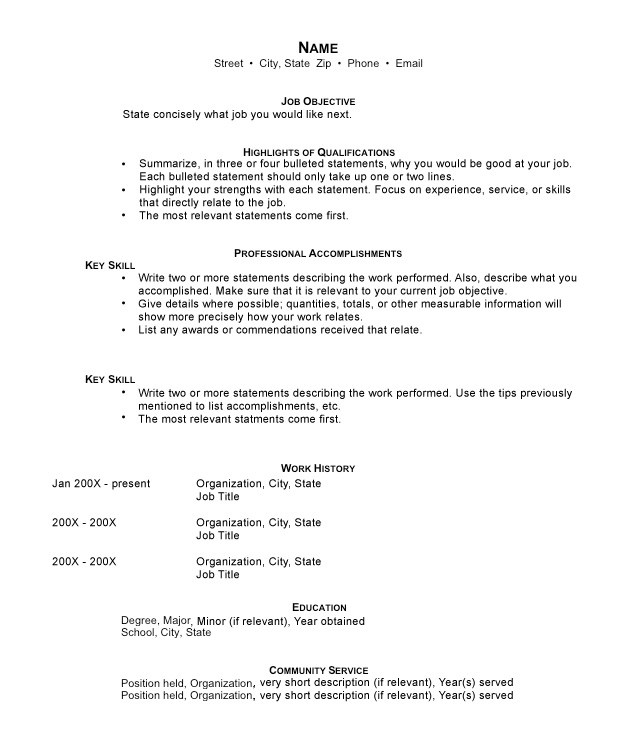 This type of resume blends the different styles and benefits from both chronological and functional formatted resumes. With a combination resume, you need to pay particular attention to the following:
your career summary or profile
your functional skills
your concise career history or employment record
The combination resume is especially valuable when you wish to demonstrate that you have a proven track record of solid performance and success.