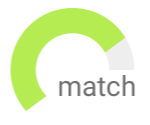 Haven't found the job you are looking for? Use our new smart new Job Match tool to find your next opportunity.
New York
Permanent
USD190,000 - USD245,000
This role will effectively market and promote the company's cash management service (CMS) products and services to their clients. Also, this position will aid in managing the sales team for the division.
Great opportunity at an investment bank
Strong opportunity, apply today!
New York
Permanent
USD115,000 - USD140,000
This role will support the cash management sales manager (and team) by positioning products strategically and coordinating a solution for corporate clients by preparing agreements / presentation materials / etc. in order to expand the business while meeting the annual sales target.
Strong opportunity with growth within the firm.
Apply today to be considered!
New York
Permanent
USD135,000 - USD155,000
On this sales team, you will be responsible for managing and supporting a targeted portfolio made of banks, brokerage firms, proprietary trading, and buy-side firms. Additionally, you will develop sales concepts for new nad existing products and analyze the market potential to build relationships / recruit new clients.
Sales opportunity at a high performing firm in NYC
Apply today to be considered!
New York
Permanent
USD130,000 - USD140,000
This role will provide Front-Office and FIX support in a trading floor environment. The Lead Support Analyst will maintain application systems supporting daily operations within the firm reporting directly to the Regional IT Manager.
Opportunity to learn and grow within a successful firm
Opportunity to work in a dynamic and fast-paced environment
New York
Permanent
USD170,000 - USD185,000
The Equity & Index Sales team is looking to increase distribution, develop relationships, and act as the trusted advisors for clients on the buy and sell side.
Attractive opportunity at one of the world's leading exchange organizations
Large company with a strong global presence
New York
Permanent
USD300,000 - USD301,000
The Managing Partner / Head of Investment will lead and oversee all stages of investment transaction-related efforts, including financial modeling and analysis, industry research, negotiation of investment terms, valuation analyses, and liquidity events. The Managing Partner will be joining a small team and working directly with the rest of the senior leadership team, portfolio companies, and our investors.
Must have curiosity about crypto and blockchain and network access to startups
Role can be in New York or California
New York
Permanent
USD175,000 - USD200,000
The IT Front Office Fixed Income and Equity Financing Specialist will be responsible for working with Repo and Stock Loan desks as well as FICC and Equity Trading and Sales teams.
Globally recognized leader in financial services!
Outstanding benefits and work environment