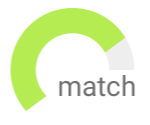 Haven't found the job you are looking for? Use our new smart new Job Match tool to find your next opportunity.
Brighton
Permanent
USD175,000 - USD205,000
The Plant Manager will be leading 10 direct reports and total of 400 plus employees nonunion. The Plant Manager will be responsible for running the entire plant operations owning the P&L and driving cultural change and transformation. This is the largest plant in North America for the organization, and one of the top plants globally.
Global Automotive Supplier
Leading Largest Plant in North America region
Detroit
Permanent
USD70,000 - USD100,000
You will be responsible for the establishment and implementation of processes for supplied material as well as compliance for relevant regulations/standards while showing compliance leadership throughout. You will also be responsible for building and maintaining relationships with suppliers and contract manufacturers.
Rapidly growing automotive tech company with relocation to RI offered
Join a rapidly growing, fast paced facility with a great culture
Detroit
Permanent
USD100,000 - USD130,000
This position is responsible for developing and maintaining our ISO compliant program, to assure that all products manufactured meet customer and company specifications. You will also make sure all QA systems are implemented and monitored and all the QC procedures and practices are standardized and followed.
A rapidly growing automotive technology company offering relocation to RI
Looking for Quality Manager with ISO9001/IATF16949 experience
Detroit
Permanent
USD70,000 - USD100,000
This growing company is looking for a Quality Engineer to provide their knowledge of automotive/IATF 16949:2016 experience to help them with their market expansion. You will be in charge making sure all quality processes are being followed while building strong relationships with new and existing customers to guarantee their satisfaction.
Rising automotive tech company located in RI, open to relocating!
Looking for a quality professional with automotive and APQP experience
Detroit
Permanent
USD150,000 - USD205,000
The Sr. Manager Electrification will be a part of the Sr. Management team reporting directly to the President. This client has an E-Mobility product and platform in development with several patents pending.
Patent Technology for an Electric Vehicle Product and Platform
Opportunity to bring to market patented EV products and building a team
Detroit
Permanent
USD120,000 - USD140,000
The Program Manager will oversee awarded business and programs managing the full lifecycle cradle to grave. The Program Manager be tasked with program management, project management, quoting, engineering changes, design, development, validation, launches, timelines, and any related commercial issues etc. This is a remote home based role, candidates must be in the Metro Detroit area.
Global Supplier with Patented Technology for Electric Vehicles
Home based role anywhere in the Metro Detroit area