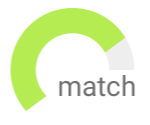 Haven't found the job you are looking for? Use our new smart new Job Match tool to find your next opportunity.
Lowell
Permanent
USD96,000 - USD125,000
In this exciting Lead Product Engineer role, you will provide design and engineering leadership for the company's unique and innovative products. You will be a key leader on a cross functional team working on core technologies within the business.
An exciting opportunity to be a leader in design and engineering.
Apply now to join this innovative company in the EV industry.
Lowell
Permanent
USD75,000 - USD115,000
The Quality Engineer II will lead product quality policy, processes, and implementation.
They will maintain ISO9001 compliance and work with stakeholders to ensure quality and reliability requirements are met
Looking for someone with strong analytical and communication skills
Competitive salary, Insurance, 401k, and more
Lowell
Permanent
USD75,000 - USD115,000
This position will be responsible for quality and process improvement. This position is hands-on in a fast-paced environment which will interact with multiple departments while supporting quality issues.
Join a midsize specialty product company working in multiple industries
Looking for a quality professional with ISO 9001 experience
Lowell
Permanent
USD70,000 - USD80,000
The primary functions of this position are to performs tests and evaluations on the incoming materials and goods and then summarizing and analyzing test results while working cross departmentally to work through effective problem identification and problem solving. You will also be responsible for major programs throughout the company and assuring outside program compliance with AS9102.
Looking for a motivated Quality Engineer who enjoys a fast paced environment
Entry level candidates looking for growth opportunities are encouraged to apply
Lowell
Permanent
USD90,000 - USD110,000
The Senior Quality Engineer is responsible for providing support to product development teams and sustaining manufacturing/operations teams. This individual will be expected to apply design control principles and techniques for medical devices. As a member of one or more cross-functional teams, this individual will ensure products are designed and developed in accordance with applicable regulatory requirements, customer requirements, and company policy.
Opening for growing Contract Manufacturer in Med Device Industry
High Visitbility role with Oppertunity for Advancement
Lowell
Permanent
USD80,000 - USD95,000
The Manufacturing Engineer will focus primarily on identifying, developing, and implementing improvements to manufacturing processes on new and existing products. They will be a member of a cross-functional team who will ensure that the technical process moves along in a safe, timely, and cost effective manner.
Join a successful manufacturing company that is a leader in its industry
This opportunity has excellent room for growth and career development
Lowell
Permanent
USD85,000 - USD100,000
Lead process improvement and technology initiatives in quality and manufacturing areas. Develop and support activities such as new automation to improve existing process, technology transfer of new products.
Publicly traded and rapidly growing family business in healthcare
Work for the industry leading manufacturer that dominates the medical industry
Lowell
Permanent
USD90,000 - USD110,000
A vital part of a small team, this Electrical Engineer's main responsibility will be the design, development, modification and evaluation of the electrical/electronic engineering assemblies for wafer process subsystems. They will use extensive knowledge of systems to inspect equipment and determine operating data, conduct experimental tests and assess results.
Are you a driven, skilled and self-motivated electrical engineer?
Join a successful and innovative team of engineers working in manufacturing.
Lowell
Permanent
USD47,836 - USD51,996
This Field Service Engineer will perform field installations, perform preventative maintenance, troubleshooting, repair and upgrading on complex electronic / electro-mechanical semiconductor equipment at customer locations.
Are you a driven, skilled and self-motivated field service engineer?
Are you comfortable working independently and enjoy travelling to customers?
Lowell
Permanent
USD75,000 - USD95,000
As the site Quality Engineer you will be responsible for maintaining the Quality Management System by driving quality objectives. You will be in charge of instilling quality culture and balancing customer requirements and company productivity.
Dynamic Position with a vision for growth
Looking for a Hybrid Manufacturing/Quality Engineer with AS9100 Experience!
Create job alert to receive Engineering Manufacturing jobs via email the minute they become available
Lowell
Permanent
USD110,000 - USD120,000
This System Test Engineer will be responsible for the design, development, and evaluation of testing processes for semiconductor process systems and subsystems. They will be responsible for leading diagnostic tests to ensure units function properly and efficiently.
Are you an engineer with a background in systems?
Join a successful manufacturing company within the semiconductor space.
Lowell
Permanent
USD90,000 - USD110,000
This electrical engineer will work within a small team to ensure that the design and development of electrical assemblies are done correctly and efficiently. This engineer must have excellent project management skills and a strong attention to detail while being able to self-motivate.
Are you a driven, skilled and self-motivated electrical engineer?
Join a successful and innovative team of engineers working in manufacturing.
Lowell
Permanent
USD80,000 - USD90,000
In this role you will become an expert in the company's products, functionalities, and applications to provide customers with the highest level of service.
By answering customer's technical and applications questions you will be the go-to person to ensure customer satisfaction.
Join this exciting, global company with amazing growth & development opportunity
A unique role where you can combine multiple skillsets across engineering!
Lowell
Permanent
USD140,000 - USD160,000
Establish and implement the manufacturing strategy for the portfolio of high-tech products used in multiple markets.
Research manufacturing techniques and collaborate with product designers to master the design and build of products.
An excellent opportunity for career growth with lots of room to excel.
This company is an innovative high tech startup making a long lasting impact.
Lowell
Permanent
USD75,000 - USD110,000
In this role you will directly oversee a small team of Field Service Engineers all located remotely across the US.
Provide direct support to engineers in the field and assist with Customer escalations in regards to repairs.
An excellent opportunity for someone who likes to travel!
Apply to this job if you're interested in overseeing a small team across the US!
Lowell
Permanent
USD110,000 - USD120,000
In this role, you will be responsible for leading a team of applications engineers supporting the company's global market organizations, partners, and customers. You will provide best in class applications, trainings, and technical product operations insight.
An exciting and unique opportunity to join this growing global company.
High visibility role, opportunity to lead a small team & travel internationally.
Lowell
Permanent
USD100,000 - USD120,000
This position is responsible to provide overall quality support to the organization. To ensure the Quality Management System is fully implemented in accordance FDA requirements to include management of Human Cells, Tissues, And Cellular and Tissue-Based Products.
World Leader in Device/Implant Manufacturing for Dental/Medical Industry
Work under the Director of QA/RA in a high visibility role
Lowell
Permanent
USD105,000 - USD115,000
Take a hands-on approach to lead the quality team of a well-respected organization that has made news headlines for the quality of their product. This role reports directly to the Sr. Quality Assurance Director and will put you in a position to influence the quality team as they approach a major growth period.
Internationally recognized/respected product line that pushes medical boundaries
Work with Director level leaders in an environment that promotes upward mobility
Lowell
Permanent
USD90,000 - USD125,000
The hands on design and development of health-care medical devices that have made a large impact after COVID-19. This organization had a record year in sales and are looking for someone to bring design and manufacturing to new and existing products looking to hit the market throughout the calender year. The business wants to invest in a Manufacturing Engineer that can lead a team in the near future and bring their business to the next level.
Record year in revenue production in healthcare (Largest Bonus structure)
Opportunity to be hands on in the design and full cycle development of products