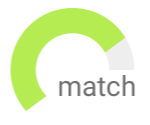 Haven't found the job you are looking for? Use our new smart new Job Match tool to find your next opportunity.
Executive Assistant to the President of a Non-Profit organization based in the East Village. This role is in office Monday - Friday from 9 - 5 and has the potential to convert from contract to permanent based on their performance and skill sets.
Full-time contract to hire position on site in Manhattan at reputable University
Supporting President's office - 5 years of experience preferred
New York
Temporary
USD62,395 - USD70,714
Provide exceptional executive assistance to CMO who is based out of Orlando, FL. This is a company who is a non-profit geared towards education.
Fully remote Executive Assistant Opportunity to CMO
Must be in the Greater New York City area or Orlando, FL