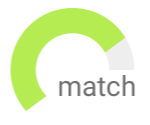 Haven't found the job you are looking for? Use our new smart new Job Match tool to find your next opportunity.
Orlando
Permanent
USD115,000 - USD125,000
The Facilities/Maintenance Supervisor will have full comprehension & scope of running a facility maintenance department. Plan, schedule and direct to accomplish regular preventive maintenance of HVAC, chillers, vacuum pumps, compressors and DI water facility to support critical business. Maintain PM records for these equipment on regular basis and keep management updated and informed.
Experience maintaining semiconductor production equip.?
Knowledge of clean room classification, ESD compliance requirements?
Anaheim
Permanent
USD135,000 - USD145,000
We are looking for a 2nd shift Plant Manager who will have oversight of day-to-day operations, and successfully coordinate all required tasks through managers, supervisors and staff.
Join a company with great benefits
Join a company with a strong promotion structure
Los Angeles
Permanent
USD75,000 - USD85,000
The position is responsible for ensuring all procedures are followed in achieving the highest level of productivity in the most cost-efficient manner possible while still maintaining the specification of the customer.
Join a team with company with outstanding benefits
Join a company with with an excellent training program
Santa Fe Springs
Permanent
USD75,000 - USD110,000
Continuous improvement supervisor analyze, maintain, and improve organizational performance. They are highly competent process managers who use a variety of skills, such as project design, leadership, and management to ensure performance and process development.
Join an Innovative Manufacturing Company
Join a Leader in Modern Manufacturing
Vernon
Permanent
USD75,000 - USD100,000
Coordinate and supervise manufacturing facility FSQA functions within the company to meet all regulations.
Join a Company that Values You!
Join a Leader in Modern Manufacturing
Commerce
Permanent
USD75,000 - USD100,000
Responsible for supporting the regulatory requirements of the company and documentation controls Maintain tracking of supplier compliance documentation and other regulatory documents.

Support completion and filing of documentation, including but not limited to ingredient and finished product specifications, GMO, Allergen, Organic and Kosher documentation.
Join Manufacturing Company with over 60 Years of Experience in the Industry
Enhance your Skillset and Work with an Amazing Team
Vernon
Permanent
USD75,000 - USD100,000
The Production Manager will be responsible for management and direction of operations of all production plant operations. The purpose of this role is to plan, direct, and oversee all production business concerns including: packaging, machine maintenance and repair, sanitation, personnel, budget management, cost and deficiencies control. Additional responsibility of developing processes that will maximize stewardship, safety, quality and productivity.
Join a Company that Values Innovation Consistency and Quality
Join a Family Owned Multimillion Dollar Food Processing Business
Hartford
Permanent
USD100,000 - USD140,000
Internationally recognized organization, operating as a manufacturer of mechanical products (bearings for aviation, marine, hydropower and other industrial applications) is seeking a Senior Facilities Manager, Engineering to direct and be responsible for design, planning construction and maintenance of the organization's equipment, facilities and properties to meet safety, performance and productivity goals.
Join an Internationally Recognized Organization in the Aviation Space
Client is Actively Hiring | Onsite Position
Orlando
Permanent
USD110,000 - USD115,000
The Facilities Supervisor will be responsible for planning, coordinating and managing compliance and maintenance of the work site. Monitor building maintenance, security and code enforcement compliance for the business.
Eager to oversee a new state-of-the-art facility?
Do you possess strong electrical power installation exp?
Providence
Permanent
USD85,000 - USD105,000
In this position you will be responsible for the design, development and instruction of training programs throughout the maintenance department. This responsibility involves working with managers throughout the department to develop training programs to meet department and business needs for continuous development and improvement.
Seeking individuals with strong experience within a maintenance department
Unique opportunity with a rapidly growing manufacturer
Create job alert to receive Facilities Management jobs via email the minute they become available
Peabody
Permanent
USD110,000 - USD140,000
This Project Manager is responsible for leading the development of engineering processes, standards, and templates for planning new and enhanced products in.
Are you looking to be a leader while applying your technical background?
Join a global semiconductor company that is a leader in its industry!
Bedford
Permanent
USD90,000 - USD110,000
A vital part of a small team, this Engineer will be responsible for the oversight of major maintenance and upgrades for electrical systems and generation equipment.
Are you a driven, skilled and self-motivated electrical engineer?
Join a successful and innovative team of engineers working in manufacturing.
Billerica
Permanent
USD100,000 - USD130,000
This Facilities Manager will run the day to day operations of a manufacturing facility responsible for leading a team of technicians, supplier management, safety and processes, the upkeep of all manufacturing assets, managing maintenance budget and resources and assisting in the design, and installation of new systems.
Leadership opportunity in a rapidly growing company
Managerment opportunity for medical device manufactruing
Gardena
Permanent
USD160,000 - USD180,000
Director of Regulatory Compliance serves as regulatory expert in keeping the company's compliant with regulatory requirements pertaining to OTC, Dietary Supplement, Homeopathic, and Cosmetic product categories. Ensures product labeling, claim substantiation, product registration, facility registration and licenses are current and meet regulatory requirements. Provide regulatory guidance and insights to cross-functional teams.
Join a Leading Consumer Health Company
Join a Trusted Brand with Rich History
Raleigh
Permanent
USD130,000 - USD160,000
The Sr. Maintenance Manager will be responsible for leading a total team of 45-50 people including 5 direct reports. The Sr. Maintenance Manager will report to the Plant General Manager and work cross functionally with other teams including quality, manufacturing, and operations.
Leading Global Automotive Supplier
Highly visible role leading an Automotive maintenance team of 45-50
Park Ridge
Permanent
USD110,000 - USD130,000
The Engineering Manager will lead a team of 8 mechanical and manufacturing engineers. They will manage all NPI and NPD processes relating to new customer programs and implement into production.
Report directly to VP of Engineering, with clear path to take over that role
Paid or reimbursed training/education/certifications