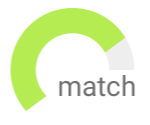 Haven't found the job you are looking for? Use our new smart new Job Match tool to find your next opportunity.
Addison
Permanent
USD75,000 - USD90,000
The Manufacturing Engineer will be responsible for overseeing CNC manufacturing operations for medical device manufacturing and project management duties with customers. Responsible for new part/program introduction, the Manufacturing Engineer will be the individual leading manufacturing optimization and productivity
Report into the Director of Operations
Lead manufacturing projects with customers
Tinley Park
Permanent
USD85,000 - USD125,000
My client is a reputable general contractor located in Northwest Indiana looking for a strong Senior Estimator that wants to join a great company that offers autonomy and growth. They have a strong backlog of projects focusing in ground up and interior build outs for commercial, healthcare, education, commercial, industrial, federal, restoration and retail projects.
Established General Contractor with clear advancement opportunities
High base salary, bonus potential, 401K with match, and full benefits
Hoffman Estates
Permanent
USD115,000 - USD150,000
The Construction Senior Project Manager is accountable for overall project implementation, and will work with clients in the health care industry as well as others as needed. The Project Manager will oversee multiple projects at a time (depending on the size and scope) anywhere from $50K-$20M as well as help with estimating as needed.


At least 2 days/week work from home
Great career progression
Elmhurst
Permanent
USD70,000 - USD95,000
The Quality Engineer will the main point of contact for customer quality programs and launch of new projects, working daily with manufacturing teams.
Family owned manufacturer
Consistent Client Base
Hoffman Estates
Permanent
USD100,000 - USD130,000
The Preconstruciton Manager will report directly to the preconstruction director and will be one of the most senior level people within preconstruction. The role will also be client facing. The preconstruction engineer is the liaison between the client, estimators, and rest of preconstruction team APPLY TODAY AND HAVE YOUR RESUME CONSIDERED WITHING 24 HOURS
Excellent work life balance
Strong benefits package
Riverdale
Permanent
USD75,000 - USD100,000
Our client is one of the largest steel companies and the largest iron ore pellet producer in North America. They recently went through a merger and are poised for even more growth from here on out. The company mines, iron makes, steel makes, rolls. and finsihes with stamping all under one organization. As a process engineer, it will be a visible position in a dynamic environment operating between caster and slab yard operations.
Fantastic benefits package, including quarterly and annual bonuses
Progression opportunities
Chicago
Permanent
USD85,000 - USD130,000
My client is a top Architecture firm in the Midwest and is seeking a registered design professional with 6-15+ years of experience who already has had successful experience in the lead role on many healthcare assignments while holding the daily design and technical development responsibilities on projects of varying scale. Successful candidates are design forward, technically savvy, problem solvers, and passionate.
New office - get in on ground floor
Qualified candidates will be reviewed within 48 hours
Itasca
Permanent
USD70,000 - USD90,000
Our client is a contract manufacturer specializing in precision machining and assemblies for the Aerospace, Military, Medical, Semiconductor, and Transportation industries.
Growing manufacturer with tenured leadership team
10% Personal Bonus Plan
Addison
Permanent
USD100,000 - USD125,000
Plans, develops, coordinates and reviews engineering work to accomplish routine output while fostering growth to meet organizational improvement goals.
Stable throughout COVID19
Opportunity to start with a growing organization
Bannockburn
Permanent
USD110,000 - USD130,000
Our client is seeking an Indirect Procurement Manager to add value to their growing procurement team. This is an expansion role that will allow you the opportunity to establish the precedent for this role and make uniquely valuable contributions to the team. Our client is looking for someone with experience in IT procurement to leverage that experience and make a lasting impact on the company. The ideal candidate for the Indirect Procurement Manager role will have a proven track record of success within indirect procurement and an aptitude for influencing processes and procedures.