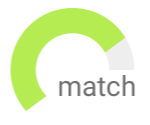 Haven't found the job you are looking for? Use our new smart new Job Match tool to find your next opportunity.
Burlington
Permanent
USD95,000 - USD135,000
The Head of Quality is responsible for championing the Quality Assurance department and working across departments to drive bottom-line
This role will be heavily involved in driving change and achieving overall quality and LEAN objectives
Join a company with a rapid plan for expansion within the next year
Excellent culture & competitive compensation and benefits package
Burlington
Permanent
USD120,000 - USD130,000
This position is responsible for leading and coordinating Quality Assurance in a fast-paced environment. You will rely on strong interpersonal skills to achieve overall quality and LEAN objectives.
Join a rapidly growing company with a diverse product line
Looking for a quality professional with leadership and QA experience
Burlington
Permanent
USD70,000 - USD80,000
You will be responsible for program supplier quality assurance verifying products are up to quality standards. This includes supplier selection and monitoring in accordance with AS9102.
Join a rapidly growing business serving multiple industries
Looking for a quality professional with supplier experience
Burlington
Permanent
USD80,000 - USD110,000
In this exciting role, you will participate in the product lifecycle from prototype design to production. You will be responsible for test definition, execution, and results analysis to drive continuous improvement of their products.
This is an exciting opportunity in electric vehicle space.
This company is pioneering new green technology to reduce pollution.
Delran
Permanent
USD65,000 - USD75,000
Our client, located in South Jersey, is seeking a Corporate Recruiter to join its growing team.
Seeking a Corporate Talent Acquisition
Growing Firm in South Jersey
Mount Holly
Permanent
USD150,000 - USD200,000
The General Manager will manage and lead overall plant operations ensuring the achievement of plant targets for Safety, Quality, Service and Cost. This will be executed through providing strong leadership to the plant team and managing the systems, equipment, people and materials according to the established policies, procedures, specifications, and customer requirements.
Interested in being apart of a growing family owned business?
Seeking flexibility & hybrid schedule?
Burlington
Permanent
USD90,000 - USD95,000
This Manufacturing Engineer II will drive the implementation of lean manufacturing processes, systems and equipment. You will focus on continuous improvement in the production system development efforts.
This company is on a mission to deliver zero emissions solutions to the world.
A great opportunity to join a mission driven company with lots of room to grow.
Burlington
Permanent
USD90,000 - USD105,000
My client is looking for a Quality Systems Engineer who will be reporting into the Director of Quality. This individual will have total oversight over the Compliant Management System as well as hands-on troubleshooting tasks within a Lab Setting.
Excellent Growth Opportunity with Cardiovasular Medical Device Company
Flexibility to Work From Home
Burlington
Permanent
USD130,000 - USD150,000
The Senior Quality Manager will provide overall company leadership and direction for Quality Assurance and Regulatory Affairs Systems, encompassing both improvements and sustaining activities. Objectives involve ensuring patient and employee safety and the achievement of customer quality requirements, create, monitor and improve quality systems/programs, and reduce quality costs for + $40 million in annual sales.
Leadership opportunity in one of biggest Precision Manufacturers in the Market
Terrific Growth Opportunity
Burlington
Permanent
USD110,000 - USD130,000
Do you have an Accounting expertise in consolidating the financial reporting for multiple different business units? Are you looking to work for a company whose products have a positive impact on the health and well-being of their patients? Would you like to work in the office 5 days a week and be a part of a core Accounting team? If so, submit your resume for consideration for the Consolidations Accounting Manager - Manufacturing based in Burlington, MA.
Consolidate the Global Accounting for 15+ Business Units
Immediate Hiring Need - Great Opportunity for Career Development
Create job alert to receive Industrial Manufacturing jobs via email the minute they become available
Burlington
Permanent
USD110,000 - USD120,000
This Operations Manager will need to be driven, and excited to manage and build a team of their own. They will be in charge of running the production floor and implementing improvements all with efficiency and safety in mind.
Do you enjoy managing a team while driving efficiency and success?
Join a successful manufacturer that is a leader in their niche field.
Burlington
Permanent
USD160,000 - USD170,000
Reporting directly to the President & CEO, this Director of Engineering will be mainly responsible for directing day-to-day activities for the Engineering team. They will also serve as operating R&D and a technical advisor for all NPD development and design.
Do you enjoy managing a team while also contributing hands-on work?
Join a company that is the leader in the niche hazardous materials field.
Burlington
Permanent
USD70,000 - USD85,000
My client is a world leader in high end, complex precision metal manufacturing. With unparalleled service and quality, they are looking to make an addition to their quality team. Candidates with strong manufacturing backgrounds would be very successful in this environment.
Work with a world leader of precision metal manufacturing and medical specialist
Terrific team culture with an emphasis on internal growth
Burlington
Permanent
USD95,000 - USD115,000
This position is responsible for assisting in the development and maintenance of a continuous improvement program and driving the CI culture forward with in the business. You will work cross functionally throughout the organization, running different quality and CI projects help improve product quality and manufacturing processes.
Looking to become a key impact player in developing a companies CI program?
Individuals with strong CI and Lean Manufacturing experience apply now!
Burlington
Permanent
USD80,000 - USD100,000
Our client is looking for a well-rounded Design Quality Engineer to join their growing team in Burlington. This role will encompass several different areas of Quality including Design Control, Risk Assessment, CAPA, and Verification & Validation.
Dynamic role in fast growing Medical Device Start-up
Work on new products in the bio-materials space
Moorestown
Permanent
USD150,000 - USD225,000
Our client is a leading manufacturing company looking for a Controller due to growth. The candidate should posess strong leadership and managerial skills. Building and developing strong teams is extremely important in this role. Will have a seat at the table with the executive leadership team.
Work for a company that encourages personal development
Strong Growth opportunity with a leading manufacturing organization