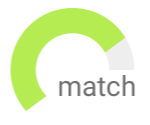 Haven't found the job you are looking for? Use our new smart new Job Match tool to find your next opportunity.
Manhattan
Permanent
USD120,000 - USD130,000
This Sourcing Expert will be resposible for supporting a broad range of the company's order fulfillment and buying needs across Technology (hardware, software, telecom and cloud) as well as Professional Corporate Services with a focus on HR, travel, logistics, facilities and global operations.
Flexible Working
Competitive Compensation Package
Deerfield
Permanent
USD150,000 - USD180,000
This Sr Manager of Global IT Procurement will be responsible for developing and implementing IT Infrastructure category strategies for cost savings, aligning strategic business needs, whilst maintaining and improving vendor relationships. This role is a an exciting role with a large scope, supporting business units in developing and executing Sourcing strategies in a fast-paced entrepreneurial environment.
Unique highly consultative role
Very high exposure to senior leadership including working with the CPO
Hoboken
Permanent
USD160,000 - USD180,000
This role is newly created to support their growing business. It will be responsible for managing a relationship with one of their clients and expanding their business.
2 days a week in office(Hudson County,NJ) and 3 days working from home
International company with clients across multiple industries