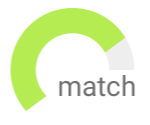 Haven't found the job you are looking for? Use our new smart new Job Match tool to find your next opportunity.
New York
Permanent
USD85,000 - USD90,000
This individual will lead day-to-day project management of brand initiatives and calendar roll-out in close partnership with the rest of the Brand team and will work cross-functionally with the Growth, Digital Product, and Operations teams to ensure all marketing efforts are seamlessly integrated and executed.
Opportunity to work with one of the fastest growing digitally native DTC brands
Fully REMOTE work
White Plains
Permanent
USD110,000 - USD125,000
A high-profile, strategic Brand Management & Brand Building role that requires a strong marketing, analytical and digital background.
Competitive Salary
Significant Growth Opportunity
White Plains
Permanent
USD85,000 - USD100,000
This role will be the lead Marketing contact and works cross-functionally with Sales, Brand Building, PR, NPD, eCommerce, Administration, and Global Suppliers, including Winemakers and key Supplier personnel.
Competitive Salary
Significant Growth Opportunity
New Jersey
Permanent
USD100,000 - USD120,000
The Brand Manager will drive business planning and marketing execution, keeping the consumer at the heart of what they do by bringing products that are meaningful to market. The Brand Manager will work collaboratively across departments including Sales, Product Development, Design, Video, Copy and Photography.
Growing Appliance Company
Seeking Brand Manager
The Junior Graphic Designer will be responsible for designing an array of projects to support the retail and salon businesses, both online and in-store. This position will closely partner with cross-functional creative, retail, online, brand and marketing teams, to deliver compelling creative.
Growing Haircare Company
Seeking Graphic Designer
Simi Valley
Permanent
USD170,000 - USD180,000
Michael Page is currently working with a global cosmetic brand who is seeking a Senior Creative Director. This leader will play a critical role in elevating and scaling the current creative team.
Fast Growing Company
Strong Leadership Position
The Brand Manager will be responsible for working with the team on new product development and product launch processes, as well as packaging development and coordination with manufacturing. This person will also be in charge of concept development, competitive analysis, consumer testing, promotional strategy and public relations.
Growing Haircare Company
Seeking Brand Manager