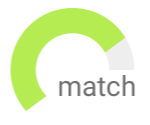 Haven't found the job you are looking for? Use our new smart new Job Match tool to find your next opportunity.
Our client is looking for a Sr Strategic Sourcing Leader for their Electronic division. They are a Fortune 250 company located neath Northbrook is seeking a creative and highly strategic individual to add to their growing strategic sourcing team. This company has an intense focus on growth and development- this role is actually open due to an internal promotion of a candidate we placed two years ago.
Unlimited career growth, training and development
Global manufacturing conglomerate within a stable and growing industry segment
Northbrook
Permanent
USD120,000 - USD145,000
The Senior Category Manager (Indirect) will be responsible for the execution of strategies through strategic sourcing to significantly reduce costs. This role will partner with internal customers and build relationships with key stakeholders, be responsible for achieving savings, managing contract implementation, and tracking impact. The goal is to reduce total costs of services while maintaining or improving supplier quality and service.
Must have a strong background within indirect procurement
Highly visible role with ample career growth opportunities
Northbrook
Permanent
USD110,000 - USD125,000
This Quality Manager role is a great opportunity to get your foot in the door at an organization that values its employees.
Great opportunity to join a company that is rapidly growing
Opportunity to report directly to the President of the Organization
Northbrook
Permanent
USD120,000 - USD145,000
The Senior Strategic Sourcing Manager (Indirect) will be responsible for the implementation and management of global procurement strategies to reduce overall TCO for the organization. This role will be working very closely with various internal stakeholders and cross-functional teams building relationships throughout the organization. The goal is to reduce total costs while and maintaining great relationships with suppliers while holding suppliers accountable for high quality service.
Must Have Strong Indirect Sourcing Background
Join a high performing indirect procurement team!
Northbrook
Permanent
USD120,000 - USD140,000
This role is an exciting leadership role with a global scope, supporting business units in developing and executing Sourcing strategies in a fast-paced entrepreneurial organization supporting a $1.2 billion spend. They are looking for individuals with Shared/ Corporate Services experience.
Unique highly consultative role
Very high exposure to senior leadership including working with the CPO