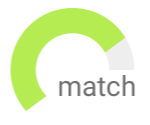 Haven't found the job you are looking for? Use our new smart new Job Match tool to find your next opportunity.
New York
Permanent
USD60,000 - USD80,000
Looking for a talented Sales Operations Associate, responsible for managing the ecommerce operations (orders and site merchandising) on a set of high-growth accounts.
Fully remote or optional hybrid (Manhattan)
Rapidly-growing Designers
New York
Permanent
USD150,000 - USD175,000
A leader will provide strategic direction over the end-to-end purchasing, replenishment, forecasting and allocation process of inventory across seasonal and basic replenishment goods across the clients Brands portfolio.
Direct Hire Opportunity!
Hybrid work environment -- NYC Office
Chicago
Permanent
USD100,000 - USD140,000
I am looking for a Supply Planning Manager for our client who is a fast growing CPG business in Chicago which has continued to show strong financials year after year. This role is a critical role for the Supply Chain function, managing one of their critical teams in the business. This person will be responsible for overseeing a team of Planners.

Highly Autonomous role
Fast growing company with plenty of room for growth
New York
Permanent
USD80,000 - USD85,000
Reporting to the Global Fulfillment Manager, you will be the main point of contact for 3rd party fulfillment partners in the US, Canada and Mexico. You will also work closely with internal NoAm sales and customer success teams to develop best in class operational processes and a flawless campaign execution on behalf of brand partners.
Competitive Pay + Benefits
Growing team with a global CPG Tech Company
Cincinnati
Permanent
USD90,000 - USD115,000
The Logistics & Customer Service Manager will oversee the customer service and logistics team to ensure timely and accurate execution of customer orders. This person will report to the Vice President of Customer Services and be responsible for creating and implementing scalable processes and structure.
Fast growing global company with ample room for growth
Lead and manage a team of 7-10 employees
Jacksonville
Permanent
USD80,000 - USD81,000
Analyze inventory movements/adjustments and reconcile inventory between the Warehouse Management System (WMS) to SAP for various DCs within North America, Europe and Asia
Perform monthly accounting activities including the preparation of monthly journal entries, related account reconciliations and reporting
Opportunity for growth
Competitive salary and benefits
Queens
Permanent
USD80,000 - USD110,000
The main objectives are to create accurate visibility for OEM inventory position (orders, inventory, sales); balance OEM purchases against demand; support and coordinate efficient import and domestic logistics; coordinate US export shipments for OEM products; and perform monthly/quarterly/annual price, quantity & cost verifications, and analysis.
Perm start ASAP
Hybrid work environment - NY Office!
New York
Permanent
USD60,000 - USD80,000
This role will focus on analyzing inventory and sales data to support the inventory flow and forecast in the Amazon pipeline- as well as generate reports on sales and trends. The role will also support other key areas of our Amazon Seller account.
Perm start ASAP
Generous Benefit Package
New York
Permanent
USD70,000 - USD80,000
This position is responsible for supporting the top line sales growth strategy, vendor collaboration and partnerships, new brand and product launches, and marketing priorities and promotions for assigned category. The ideal candidate will support the category assortment strategy by utilizing weekly reporting and data analysis to evaluate and drive merchandising action in collaboration with the category buyer.
One of the Largest and Fastest Online Retailers!
Hybrid Schedule
Overseeing a variety of operational functions to improve the People Ops team and employee experience
Temp/Perm start ASAP
Looking to Gain Corporate Experience!?
Create job alert to receive Procurement Supply Chain jobs via email the minute they become available
You will find yourself overseeing a variety of operational functions to improve the People Ops team and employee experience
Temp to perm start ASAP
Hybrid office -- Chicago
Proofread new account set up form and new style set up form, and act as the liaison between sales and production department and assist in set up and maintaining material master in SAP
Direct Hire Opportunity
Hybrid working capacity- NYC office
Kearny
Permanent
USD60,000 - USD65,000
Our client is seeking a Logistics Coordinator. This position is currently remote and will operate in a hybrid capacity starting in 2022. They are seeking someone to be able to start immediately. This position processes orders and oversees cycle of order fulfillment.
Must be local to Kearny, NJ
EDI Experience Required!
This role will be responsible for supporting the Supply Chain department on analytic work.
International food company
Stable growing company
Attleboro
Permanent
USD90,000 - USD110,000
Maintain standards of inventory precision and controls.
Responsible for managing all aspects of controls, flows, and physical inventories for the business unit.
You will be the point of contact for everything related to inventory control and management.
This is a great time to join a global organization that is growing extensively!
Candidates with a background in inventory management should apply!