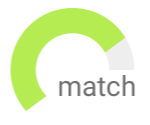 Haven't found the job you are looking for? Use our new smart new Job Match tool to find your next opportunity.
Our client - an international Consulting firm based just outside Chicago - are looking for a Payroll Project Manager to join the team. This is a temp opportunity for 6-9 months initially. They are currently working remotely, however candidates need to be able to commute to Lisle for when they return to the office later this year.
International Consulting firm based in Chicago
Are looking for a Payroll Project Manager to join the team
Darien
Permanent
USD95,000 - USD115,000
Opportunity to join a grown Design-Build General Contractor in the suburbs of Chicago. This role is going to be running projects from $15M-$40M within the light industrial space.
Access & exposure to leadership
Upwards growth structure
Downers Grove
Permanent
USD85,000 - USD115,000
Opportunity to join a well-respected General Contractor located in the heart of Chicago! Our client is looking for a self-sufficient and experienced Project Manager to run light industrial (food processing, warehouses, data centers, etc.), healthcare, commercial, rail/transportation, and government projects.
Opportunity to join a leading General Contractor of the Midwest
Benefits package and half-day Fridays year-round
Oakbrook Terrace
Permanent
USD70,000 - USD110,000
Our client is a reputable general contractor located near Oakbrook Terrace, IL that specializes in commercial interiors. They are looking for a motivated Project Manager with interior project experience and estimating knowledge. For the right candidate, they are looking to offer a high base salary, full benefits, consistent bonuses, and top of the line training. If you would like to be considered for this role, submit resume below.
Work for a reputable general contractor located near Chicago, IL
High base salary, bonus potential, full benefits and 4 weeks PTO
Itasca
Permanent
USD80,000 - USD120,000
Be a market leader in a growing industry for a billion-dollar General Contractor with a strong pipeline of work. This Project Manager will have a strong, fast-paced career progression within this GC.
Work for a company that works on over a billion dollars in annual revenue
Seeking a Project Manager with light industrial and commercial experience
Itasca
Permanent
USD75,000 - USD85,000
This is a great opportunity for a Project Engineer with 2-4 years' of construction experience. You will work for one of the most successful General Contractors in the country and you'll have a unique opportunity to grow with a company that truly embodies the "promote from within" culture.
National ENR ranked General Contractor
Great benefits and overall package with generous base salary
Itasca
Permanent
USD95,000 - USD125,000
Estimator for a Construction General Contractor that focuses on healthcare, federal/government, higher education, light industrial, multifamily, and commercial construction projects throughout the Chicagoland area.
Based in Itasca, IL
Estimator for a Construction General Contractor
The construction for our client will procure materials for their projects and schedule deliveries when needed. They are also responsible for working with the Project Managers to make sure their projects are staying on schedule and completed on time.
My client offers opportunity for workers to climb the ranks and promotes within
My client is offering a base salary + bonus, + car allowance
Elmhurst
Permanent
USD85,000 - USD105,000
The Manufacturing Engineer will be responsible for overseeing manufacturing operations for medical device manufacturing and project management duties with customers.
Responsible for new part/program introduction, the Manufacturing Engineer will be the individual leading manufacturing optimization and productivity.
Opportunity to join a matrix organization with room for growth
Opportunity to interface with some of the biggest names in Medical Device MFG.