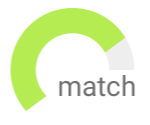 Haven't found the job you are looking for? Use our new smart new Job Match tool to find your next opportunity.
Philadelphia
Permanent
USD80,000 - USD90,000
Manufacturer of the highest performance moist- and dry-heat sterilizers, washers, chemical bio-decontamination units, pharmaceutical closures processing systems is seeking a Project Engineering Manager to be responsible for the engineering & technical disciplines needed to plan projects, establish project criteria, coordinate project reviews, and ensure the proper implementation of project elements.
Excellent Benefits on Offer! | Must Speak Italian
International Manufacturer of High Performance Equipment for Biopharma Industry
Philadelphia
Permanent
USD130,000 - USD150,000
Well established CM firm seeking talented Construction Project Manager to oversee construction delivery of new multi-phase luxury apartment complex on the Philadelphia waterfront.


Exciting new position to oversee landmark multifamily project in Philadelphia
Seeking talented Construction Project Manager
Philadelphia
Permanent
USD100,000 - USD140,000
The construction project manager plans, directs, and coordinates a wide variety of construction projects, including the building of all types of commercial construction such as hospitals, retail, and higher education.
Advancement Opportunities
Competitive Base Salary
USA
Permanent
USD120,000 - USD165,000
A fast growing Design-Build General Contractor in the Greater St. Louis Area is seeking a project manager who has experience working on distribution or light industrial projects. They would offer work from home flexibility, 401K match, vehicle allowance, phone allowance, extensive PTO, and much more.
Great Benefits and Remote Capabilities
Ability to Earn Lucrative Bonuses
Philadelphia
Permanent
USD90,000 - USD130,000
The firm is seeking a Project Manager with a background in building multifamily projects. If this company seems look a good fit for you, please apply for immediate consideration.
Opportunity for growth
Stable project pipeline
USA
Permanent
USD110,000 - USD150,000
Project Manager to lead healthcare projects for a general contractor with work around the United States. Work completely remote or in the office and visit the job site every so often to check on progress (1-2 times/month tops).
Completely remote work- work from home anywhere
Extremely stable employer with an incredible backlog of work
Philadelphia
Permanent
USD80,000 - USD950,000
Opportunity to work with one of the leading Multifamily General Contractor's in the Philadelphia area, managing exciting multifamily construction projects
promoting from within and rewarding talented employees with bonuses
one of the top general contractor's in the area
Philadelphia
Permanent
USD75,000 - USD135,000
This Philadelphia-area construction company is a well respected Construction Manager in the tristate region. They are a leader in the market with many excellent clients and a steady pipeline of commercial, higher education, and healthcare projects. This company is looking to add an Assistant Construction Manager and a Construction Manager to their rapidly growing team. If you are interested in managing exciting higher ed and commercial construction projects and the opportunity for promotion within a Top ENR Firm, please apply today!
Lucrative bonus potential
Quick path to promotion, Project Executive
USA
Permanent
USD80,000 - USD110,000
My client is one of the top restaurant developers in the country and they are looking for a Construction Manager to watch over the General Contractor and Superintendents on their projects. This person will work alongside the President and the Director of Construction to ensure that their projects are completed on time and under budget.
Great opportunity to work as an Owner's Rep
Above Industry Standard Benefits
Philadelphia
Permanent
USD170,000 - USD225,000
The successful candidate will be responsible for leading all pre-construction activities to transition projects from Business Development through Estimating and into Project Management.
Advancement Opportunities
Competitive Base Salary
Create job alert to receive Project Manager jobs via email the minute they become available
Philadelphia
Permanent
USD150,000 - USD175,000
Lead the marketing strategy, project management, and growth planning for the motherhood brands. Manage all e-commerce, social, and retail partner marketing initiatives including print/digital advertising, video, social media, partnerships, events, in-store displays, packaging, and marketing collateral.
Lead the marketing strategy, project management and growth planning.
Established global brands across consumer products