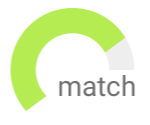 Haven't found the job you are looking for? Use our new smart new Job Match tool to find your next opportunity.
USA
Permanent
USD75,000 - USD100,000
2-3 days a week in the office for a heavy civil construction company. This person will come in and handle all recruitment needs for both union and non-union employees as well as corporate roles.
Talent Acquisition lead looking to join a growing company
2-3 days a week in the office, dependent on location
San Diego
Permanent
USD110,000 - USD145,000
The Superintendent will supervise all construction from ground breaking through project closeout, for a multi-family housing. You will be responsible for the scheduling, performance, coordination and supervision of all the employees and resources assigned to the project.
Top Multi-family GC in Southern California
Vehicle or Vehicle Allowance and Gas card
San Diego
Permanent
USD110,000 - USD140,000
The client is looking for construction professionals with experience in private work to include multi-family residential, senior living, hotels, condominiums, and other types of negotiated work.
National, award winning General Contractor
Employer paid health premiums
San Diego
Permanent
USD140,000 - USD170,000
This position is directly responsible for coordinating and supervising all on-site activities for the construction of multifamily complexes in accordance with project documents, safety, and scheduling commitments. The purpose of the Construction Superintendent is to supervise trades on-site and ensure their compliance with plans, specs, and safety requirements
Creative new approach to multi family housing
equity in company
San Diego
Permanent
USD100,000 - USD120,000
We are seeking an experienced construction superintendent with at least 5 years of proven excellence on commercial projects. Must be willing to travel and maintain collaborative, client centric, and relationship driven values.
Traveling Superintendent, Commercial Construction
Traveling Superintendent, Commercial Construction
San Diego
Permanent
USD110,000 - USD140,000
Our client is looking for a Traveling Superintendent to run day-to-day site operations on large commercial construction projects throughout the Midwest, Southeast, and Southwest of the United States. This person will have above market per diem, benefits, bonus structures, and other perks and will be traveling 100% of the time.

RESUME REVIEW WITHIN 48HOURS!!
Extensive pipeline of recession proof projects through 2022 and 2023
Salary ranging from $110k-$140k with full benefits
USA
Permanent
USD120,000 - USD165,000
A fast growing Design-Build General Contractor in the Greater St. Louis Area is seeking a project manager who has experience working on distribution or light industrial projects. They would offer work from home flexibility, 401K match, vehicle allowance, phone allowance, extensive PTO, and much more.
Great Benefits and Remote Capabilities
Ability to Earn Lucrative Bonuses
San Diego
Permanent
USD65,000 - USD85,000
The successful candidate will be the Multifamily Residential Project Engineer responsible for building and construction of Multifamily/ mixed use complexes in San Diego.

The ideal candidate has a strong track record of successful completion of all aspects of Multifamily construction as a Project Engineer of Type III and V buildings in Garden Style, Wrap, and Podium variants.
Our company is a top ranked San Diego contractor
Opportunity to be mentor and trained in professional career
USA
Permanent
USD110,000 - USD130,000
Do you have a commitment to safety and quality? The Traveling Superintendent will be an integral part of every project they work on and will have the ability to lead from the front and receive internal promotions after completing just a few projects on their own.
Above market per diem with lucrative bonuses per project
Strong PTO plan with access home twice a month
USA
Permanent
USD110,000 - USD150,000
Project Manager to lead healthcare projects for a general contractor with work around the United States. Work completely remote or in the office and visit the job site every so often to check on progress (1-2 times/month tops).
Completely remote work- work from home anywhere
Extremely stable employer with an incredible backlog of work
Create job alert to receive Property jobs via email the minute they become available
San Diego
Permanent
USD80,000 - USD110,000
The Construction Superintendent is responsible for directly managing a project's construction activities to meet specifications, delivering the project within budgeted cost and by the scheduled completion date. This position is required to coordinate, plan, and supervise tradesmen, contractors and/or craft activities on projects. Must have experience with fast paced tenant improvements, office space sector preferred.
Construction Superintendent, Commercial TI
Construction Superintendent, Commercial TI
USA
Permanent
USD80,000 - USD110,000
My client is one of the top restaurant developers in the country and they are looking for a Construction Manager to watch over the General Contractor and Superintendents on their projects. This person will work alongside the President and the Director of Construction to ensure that their projects are completed on time and under budget.
Great opportunity to work as an Owner's Rep
Above Industry Standard Benefits
San Diego
Permanent
USD90,000 - USD130,000
Looking for a Lead Superintendent to oversee, manage and direct all aspects of a project from beginning to end. The ideal candidate will have excellent leadership qualities that allow him or her to take control of a project and produce results. Ground-up Commerical or Multi-Family experience and 100% travel requirement required.
Spearhead $45M ground-up Commercial Project
Transparent career growth with direct exposure to Owners