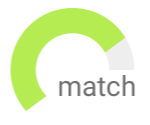 Haven't found the job you are looking for? Use our new smart new Job Match tool to find your next opportunity.
USA
Permanent
USD75,000 - USD100,000
2-3 days a week in the office for a heavy civil construction company. This person will come in and handle all recruitment needs for both union and non-union employees as well as corporate roles.
Talent Acquisition lead looking to join a growing company
2-3 days a week in the office, dependent on location
USA
Permanent
USD120,000 - USD165,000
A fast growing Design-Build General Contractor in the Greater St. Louis Area is seeking a project manager who has experience working on distribution or light industrial projects. They would offer work from home flexibility, 401K match, vehicle allowance, phone allowance, extensive PTO, and much more.
Great Benefits and Remote Capabilities
Ability to Earn Lucrative Bonuses
USA
Permanent
USD110,000 - USD130,000
Do you have a commitment to safety and quality? The Traveling Superintendent will be an integral part of every project they work on and will have the ability to lead from the front and receive internal promotions after completing just a few projects on their own.
Above market per diem with lucrative bonuses per project
Strong PTO plan with access home twice a month
USA
Permanent
USD110,000 - USD150,000
Project Manager to lead healthcare projects for a general contractor with work around the United States. Work completely remote or in the office and visit the job site every so often to check on progress (1-2 times/month tops).
Completely remote work- work from home anywhere
Extremely stable employer with an incredible backlog of work
Louisiana
Permanent
USD50,000 - USD80,000
Proficient in the following Skills:-professional written and verbal communication-arithmetic, geometry, algebra and basic trigonometry-basic software programs such as MS Word, Excel, Outlook and Adobe Reader / Acrobat-basic use of a computer to store, organize, retrieve, create and edit documents, photographs,videos and other files-plan, specification, submittal.
Construction company with Excellent Reputation in the market
Project Focus on Federal and Government Projects
USA
Permanent
USD80,000 - USD110,000
My client is one of the top restaurant developers in the country and they are looking for a Construction Manager to watch over the General Contractor and Superintendents on their projects. This person will work alongside the President and the Director of Construction to ensure that their projects are completed on time and under budget.
Great opportunity to work as an Owner's Rep
Above Industry Standard Benefits