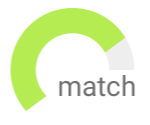 Haven't found the job you are looking for? Use our new smart new Job Match tool to find your next opportunity.
Manhattan
Permanent
USD125,000 - USD140,000
Our client is seeking a self-driven individual to join their legal department. This individual will serve as a liaison between the investment management team and outside legal counsel, and will be a part of matters relating to transactions, agreements, and documentation. The ideal candidate enjoys working in a collaborative fast-paced environment and is ready to grow within an organization.
Opportunity to join a firm that offers a hybrid working enviroment
Opportunity to join a firm that offers future growth opportunities
New York
Permanent
USD60,000 - USD90,000
Our client is a mid-sized law firm based out of New York who is looking for a Commercial Real Estate Paralegal to join their growing Real Estate practice group. The incoming candidate will be responsible for reviewing surveys/titles, preparing ancillary documents, and assisting attorneys with closings.
Amlaw 200 firm
Learning opportunities within a growing law firm
New York
Permanent
USD100,000 - USD145,000
In this position, you will assist attorneys in all aspects of commercial real estate transactions, including documentation, due diligence, development and entitlements, closing and post-closing activities for real estate acquisitions, dispositions, and title and survey. You will be a member of the firm's Real Estate department, reporting to the attorneys on your team.
Opportunity to join Am Law 100 firm
Generous compensation package
Manhattan
Temporary
USD83,193 - USD103,992
This person should have experience dealing with senior lenders, bridge and mezzanine lending and construction. This person will be doing heavy title examining and review work, having that experience is imperative. This person will be working alongside one paralegal and a legal assistant, supporting two partners.
Commercial Real Estate Paralegal opportunity with a very competitive salary
In office in Midtown Manhattan at extremely reputable law firm
Minneapolis
Permanent
USD70,000 - USD85,000
Work from home
AM LAW 200 firm is seeking an experienced transactional paralegal for its Minneapolis office. Under the supervision of one or more attorneys, this paralegal will perform a variety of legal duties for the assigned department inlcuding both corporate and real estate transactions. Skills required include the ability to reason logically, analyze situations, communicate effectively both orally and in writing, draft transactional documents.
Opportunity to join Am Law 200 firm
Generous compensation package