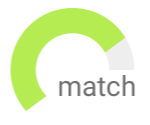 Haven't found the job you are looking for? Use our new smart new Job Match tool to find your next opportunity.
Elk Grove Village
Permanent
USD40,000 - USD70,000
The Buyer will support Supply Chain projects that allow our client to purchase high quality products and services at market prices. Manage day to day purchase order activity and provide support to internal customers to locate sources of raw materials/services.
50+ years in business and extremely family-friendly
100% healthcare coverage for employee and 50% for family members
The Senior Buyer - Raw Materials will be responsible for coordinating all activities involved with procuring goods such as raw materials for the organization by performing various activities including but not limited to vendor management, cross functional collaboration, supplier development and new vendor sourcing.
Chicago
Permanent
USD70,000 - USD80,000
Our client is a specialty organization providing their customers with high quality products. Well established within their niche, the client is looking for a Senior Buyer/Planner to focus on strategic sourcing and supply planning projects. The ideal candidate will have at least 3 - 5 years experience within procurement and supply planning in a fast paced environment.
Highly visible role with ample room for growth
Great opportunity to touch and learn various aspects of the business
New York
Permanent
USD45,000 - USD48,000
Our client is seeking an Assistant buyer to join the Purchasing & Production team.
Hybrid Schedule!
Fashion Industry
Develop pitches for new partner segments
Lead discussions with existing and prospective partners to determine market fit, size, and readiness for new product offerings
Delivery service of various fresh meat items
Area of rapid growth
The Quality Control Manager will plan, coordinate, and direct the Quality Control Department program designed to ensure continuous production of products consistent with established standards and expectations.
This role is for a nonprofit company in the public service industry with a public mission. They are seeking a Procurement Buyer with 5 years of experience in indirect materials. This is a contract to hire role based in the Metropolitan New York area. As a Buyer you will work in the Procurement Office to deliver high quality procurement services that maximize purchasing power and takes advantage of cost savings and efficiency opportunities.


Contract to Hire Opportunity
Hybrid Job Opportunity
Los Angeles Metro Area
Permanent
The right candidate will define success by reducing the total cost in the organization while meeting/exceeding our retail partners expectations with regards to OTIF (On-Time In Full). This position will oversee and define all supply chain activities.This will include qualifying vendors, running trade studies, negotiating contracts and purchases, managing contracts, and overseeing vendor relationships.
Experience in the personal care space or cosmetic brands preferred
One of America's fastest growing private companies