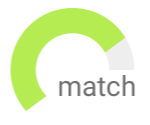 Haven't found the job you are looking for? Use our new smart new Job Match tool to find your next opportunity.
Denver
Permanent
USD65,000 - USD75,000
The Sales Administrator will work on administrative and sales tasks to support a well known software development company in the greater Denver area. The Sales Administrator will work on a team with members all across North America in a collaborative environment.
In office 2 days a week
Must be located locally to Denver
Princeton
Permanent
USD50,000 - USD60,000
The Sales Support Coordinator's primary role is to support the Sales Team. The role will give multi-functional support and handle administrative details of Sales Team.
Rapidly Expanding in the US, Global Packaging company
Join a dynamic and fast growing company
Passaic
Temporary
USD45,000 - USD55,000
This position's responsibilities include responding and distributing phone calls that come in, updating the web developers with product information, images, and inventory counts. Posting to social media accounts, assisting the salespeople with paperwork and communication. Organizing paperwork and filing paperwork. Utilizing Microsoft Office Suite and CRM systems.
Permanent after 15 days based on performance
Fully in office in Passaic, NJ
New York
Temporary
USD45,756 - USD49,916
Work a four month contract as an Administrative Assistant providing assistance with coordination, sales, and research.
4 Month Contract - Fully Remote
Work closely along the Language Services Team