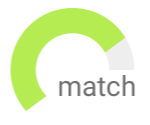 Haven't found the job you are looking for? Use our new smart new Job Match tool to find your next opportunity.
International
Permanent
USD55,000 - USD85,000
The role of the Estimator will be to support the Account Executive/Busniness Development Represntatives in winning new work. You will accompany the AE on intial project reviews with architects and prospective clients, and then work with the sales, production, and finance team during the bid process to win the job.
Opportunity to work fully remote
Growing company with high end projects
Boston
Permanent
USD70,000 - USD80,000
The Senior Analyst - Capital Markets will closely work with the existing team and assist in deal sourcing, sales pitches, research and financial statement reviews.
Build your career in Commercial Real Estate Brokerage
Work with an experienced team in a dynamic environment
St. Louis
Permanent
USD80,000 - USD130,000
Great opportunity to bring in new business in the commercial construction market. Looking for a business developer with extensive sales experience on winning bids and attacking new market trends!
Opportunity to bring in new business for commercial construction
Bonus structure can double or triple base pay!
Austin
Permanent
USD110,000 - USD120,000
The Area Construction Manager will act for Multiple production home projects between $450K- $800K. You will be responsible for overseeing the full cycle ground up construction, Warranty, Sales, Sub contractor negotiations and option pricing for all homes under your remit as well as leading and managing a team of Construction Managers and superintendents
Opportunity to lead and manage a team of 10+ construction professionals
All projects will be ground up construction of $400k - $600k homes
Goshen
Permanent
USD90,000 - USD100,000
The Estimator is responsible for creating accurate cost estimates using common construction standards and practices. The Estimator works closely with the sales team, architectural department, project managers and owners to accomplish these goals.
Reputable local General Contractor with backlog of local projects
Family oriented company focused on employees, growth, and quality projects
Austin
Permanent
USD95,000 - USD120,000
The Project Manager will manage over carrying multiple high end luxury custom home projects throughout the Austin and Central TX market valued at $1.2MM - $5MM. You will be responsible for overseeing the full cycle ground up construction, Warranty, Sales, Sub contractor negotiations and option pricing for all homes under your remit. The successful candidate will also be responsible for:
Opportunity to join a leading Luxury Custom home builder ($1m - $8Mil)
Managing all projects from ground up through to completion