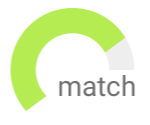 Haven't found the job you are looking for? Use our new smart new Job Match tool to find your next opportunity.
You will be accountable for the entire construction Project from mobilization to completion, by providing the knowledge, skill and experience to run day-to-day operations on the job site. The Project Superintendent's top priority is field coordination, working closely with the Subcontractor(s) to ensure that they are always focused on quality and workmanship that meet industry standards.
Great Culture and Compensation
Company Brand
Facilitate, coordinate and manage all field aspects of projects:
Construction Superintendent - Office TI
Pre-construction, assist in project buy-out & scheduling
On-site Project set up & mobilization
Scheduling - Master schedules, tracking & recovery, 3-week rolling
Conduct regularly scheduled subcontractor coordination & safety meetings
Job site Safety / Risk Mitigation / Job Hazard Analysis
Daily Logs
Opportunity for growth with developer/builder. Has multi-year project pipeline
Top of the line compensation package
Los Angeles
Permanent
USD120 - USD130
Maintain daily log of all activities and site conditions, while managing the punch list and closeout process through owner/architect acceptance
Work with the project manager in formulating project schedule, ensuring that the proper methods and sequence of installation are followed, making and following through with schedule commitments, and maintaining quality standards
Great benefits & Strong Brand
Excellent Culture
The Construction Superintendent ensures the on-time and on-budget completion of assigned construction and new development projects by managing the construction, manpower, financial, and safety, and reporting activities associated with the projects. They will manage the day to day operations of the project on site.
Opportunity with established General Contractor with a steady backlog.
Exceptional health care coverage, 401k, bonus, & technology.
Culver City
Permanent
USD120 - USD180
* Direct day-to-day on-site supervision of field labor force including assistants, foremen, subcontractors and other construction related personnel.

* Assist Project Manager in the supervision and responsibility of the total construction effort in accordance with design, budget, quality, and schedule.
401k, Benefits, Great Culture
Strong Brand Recognition
The Construction Superintendent - Office TI will oversee construction of the project in the field, providing leadership to field foremen and ensuring successful completion of trade work. Ideal candidates are experienced in fast-paced tenant improvement projects.
Room for Advancement
Competitive Base and Benefit Package