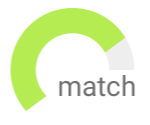 Haven't found the job you are looking for? Use our new smart new Job Match tool to find your next opportunity.
Hempstead
Permanent
USD60,000 - USD75,000
The Accountant will conduct quarterly and monthly account reconciliation to ensure accurate reporting and leger maintenance. As well as reconciling account Balance sheet, P&L balances, lease schedule, and fixed asset schedules.
Competitive Salary
Growth Opportunities
New York
Permanent
USD50,000 - USD75,000
My client is a nonprofit organization that is seeking an Accountant to join their team on a direct hire basis. Applicable candidates must be experience in General Ledger & Revenue accounting and must be passionate about working within the nonprofit space.

Candidates must be fully vaccinated for consideration
Direct Hire Opportunity with Mission Driven Organization
Hybrid Work Schedule & Generous Medical Benefits
Manhattan
Permanent
USD90,000 - USD100,000
A supervisory accountant level position overseeing sales tax preparation, financial reporting, payroll, ad-hoc responsibilites, and data analysis. Opportunity to join a prestigious consumer products business in the luxury goods space.
Luxury Goods Business with International Presence
Hybrid Schedule in Midtown Manhattan
New York
Permanent
USD75,000 - USD105,000
This position will assist the Partner Accounts & Tax department with administration of the Firm's partnership accounting, the Firm's investment partnerships and general duties within the Tax group.
Career Longevity
Hyrbid Work Schedule
Manhattan
Permanent
USD24 - USD25
The client is currently looking for an Accounting Assistant to join the team. This is a temp to perm opportunity and candidates must be immediately available.
Well known Consumer Goods organization
Looking for an Accounting Assistant
New York
Temporary
USD62,395 - USD72,794
Work from home
The Staff Accountant will be working within the Accounting Management group of an asset management firm. They will primarily focus on accounts payable duties such as processing invoices and employee expense reports as well as credit card reconciliation and foreign office accounting.
Reputable and growing asset management firm
Temp position with opportunity to turn permanent
Brooklyn
Temporary
USD93,592 - USD135,189
This is a temporary role located in Brooklyn, New York. This position will report into the Controller and CFO of the organization, aiding in transaction processes for accounts payable and accounts receivable, prepare financial reports, and performing other accounting duties as assigned.
Opportunity to work with a great non-profit organization.
Fun and exciting work environment.
Brooklyn
Temporary
USD83,193 - USD103,992
Our client is looking for a Senior Accountant to join the team. This is a temp position for 2-3 months initially, and candidates must be immediately available. Their office is in Park Slope, Brooklyn, and they