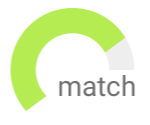 Haven't found the job you are looking for? Use our new smart new Job Match tool to find your next opportunity.
New York
Temporary
USD60,000 - USD65,000
Must have experience managing a complicated and ever changing schedule. Open to feedback and criticism to improve overall performance.
Seeking an organized Executive Assistant who can calendar and facilitate events.
Must have previous Executive Assistant experience supporting C-Level Execs.
New York
Temporary
USD37,437 - USD62,395
My client is a Marketing/Advertisement firm, located in Manhattan. They are seeking a Finance Assistant to join their team ASAP on a hybrid basis. This opportunity a temp to hire role, and individuals must be able to work in a hybrid capacity, and must be fully vaccinated for consideration.
Able to Grow Career with Well-Known Marketing/Advertising Firm
Contract to Hire Opportunity with ASAP Start Date
Washington
Temporary
USD72,794 - USD79,033
Support multiple individuals on the Government Relations Team within a large established Media Company. Assist with day to day tasks.
Interested in working within a Government Relations Team?
Must be located in Washington DC .
Pemberton
Permanent
USD110,000 - USD135,000
The ideal Assistant Corporate Controller should be experienced in all aspects of financial oversight, including owning the close function, assisting in the preparation of financial statements, budgets and forecasts, as well as the development and implementation of internal control policies and procedures. The Assistant Controller will work closely with the CFO, Treasury Director, FP&A and Financial Control leadership and lead a good sized team (5ish).
Great opportunity with Tier 1 Global Professional Services firm
Highly visible internal role interfacing w/ CFO + BOD + Global Controller
New York
Permanent
USD250,000 - USD285,000
The Assistant General Counsel - Technology and Procurement will be a part of a small legal team, handling a wide range of global SaaS and commercial agreements. This role is hybrid in-office 2 days per week in New York City.
Exciting opportunity to join global media company
Newly created position
Looking for a human resources associate who is creative and has a passion for art for one of the top New York gallery locations. They will have a hybrid schedule and will be able to learn not only about their department but also about art and what it is like to be in a creative industry.
Human Resources Associate to work in a luxury New York gallery
Creative individual seeking a hybrid schedule with contemporary art
Dallas
Permanent
USD65,000 - USD75,000
Leading regional homebuilder is looking for a Marketing Coordinator to work closesly with the Director of Marketing to help maintain and progress the growth in Texas for home projects ranging from $400k-$900k in value.
National Homebuilder with healthy pipeline
Competitive salary and career progression