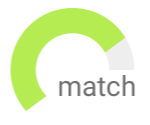 Haven't found the job you are looking for? Use our new smart new Job Match tool to find your next opportunity.
This Assistant Superintendent will tasked with supporting the Superintendent on site with scheduling, planning, coordinating, implementing, and monitoring construction activities on all projects. They will will need to be an effective on-site coordinator and the onsite project representative. Work in conjunction with the Superintendent and Project manager to maintain the project schedule and budget goals along with maintaining client and design team expectations.
Advancement Opportunities
Competitive Base Salary
Responsible and accountable for assisting with the supervision of the entire site, all subcontractors and building construction process. Helps to provide a safe work environment, inspects work of subcontractors, documents work done, punches-out finished units, and completes any work that is not contracted out.
Well established company with a solid future pipeline and multiple projects.
Great benefits and compensation
Philadelphia
Permanent
USD75,000 - USD105,000
This position is responsible for supporting the President and CFO.

This position will be overseeing the day-to-day Finance and Accounting duties.


High compensation opportunity
Growing Company Work life balance
York
Permanent
USD75,000 - USD115,000
This position is responsible for supporting the CFO, overseeing a small team, and the day-to-day operations of the Finance and Accounting Department. In this role, the CFO will look to mentor and help develop the selected candidate. The role has a promotion track to Controller.
Growing developer chance to have long term career
Great Compensation Package
We are currently seeking an experienced Assistant Project Manager to partner with the project manager from bid preparation through final client acceptance. You will also lead, coach, and mentor project team members. Your ability to remain flexible, inventive, dedicated, and efficient with a high level of integrity and confidentiality is vital to your success in this role.
Competitive pay and benefits, strong work load
Advancement opportunities
The Assistant Project Manager oversees contracts to ensure the company's projects are carried out in accordance with established company procedure ensuring contract compliance, within specification(s) and company standards, on budget, on-schedule, and maintaining a high level of client satisfaction.
Established company, good pipeline, exciting projects
Great benefits and compensation
This position splits time between active construction job-sites and the office. The ideal candidate will have construction experience or construction degree. The candidate must have an excellent work ethic, be extremely organized, proficient with Microsoft Office, be exceedingly dependable and punctual, possess the ability to multi-task, and complete daily assignments in a fast-paced environme
Advancement Opportunities
Competitive Base Salary
As a Recruiting Coordinator, you will support company with a focus on recruiting activities such as sourcing, resume screening, scheduling, and coordinating the interviews as well as collaborating cross-functionally with company programs and affiliates by helping to streamline the interview process. This is a great opportunity for someone who is ready to learn the ropes of recruiting in a fast-paced environment and jump-start their career in recruiting.
Hybrid Role - Based in Philadelphia
Contracted Role with Potential to go Permanent
Nationally ranked law firm is seeking to hire an experienced Trusts and Estates Paralegal to support a sophisticated regional practice in our Philadelphia location. Experience in preparation of gift tax, estate tax and fiduciary income tax returns, administration accounts, and allocation distributions to beneficiaries is helpful.
Top ranked national Firm
Rapidly growing team with opportunity for fast promotion
Latrobe
Permanent
USD75,000 - USD95,000
Our client is a family oriented, established Multi-Family Developer looking for a Construction Project Manager interested in development to join the team and make immediate impact. If you are looking for the next move in your career to be one at a solid company that rewards their employees generously this is the move for you.
Work with a extremely reputable developer known nationally.
Sky is the limit on upward mobility
Create job alert to receive Assistant jobs via email the minute they become available
Radnor
Permanent
USD120,000 - USD145,000
Great opportunity for a Controller/Assistant Controller/Public Accounting Manager to join a growing team within a global Professional Services organization. Leading and owning the Accounting function during a period of sustained high growth in our business, working very closely with our CFO.
Great opportunity with very profitable Professional Services/Technology firm
Great opportunity to work directly with CFO