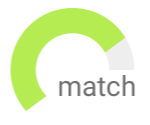 Haven't found the job you are looking for? Use our new smart new Job Match tool to find your next opportunity.
New York
Permanent
USD185,000 - USD210,000
Financial Services client seeks attorney to work on a wide range of commercial, procurement and technology transactions.
Global FS client seeking technology transactions and commercial counsel
Long term growth opportunities, excellent benefits and environment
New York
Permanent
USD200,000 - USD300,000
The Counsel will handle legal matters for the broker-dealer pertaining to securitizations (CLOs), and mortgage-backed securitizations (RMBS, CMBS).
Exciting opportunity to join Legal team of Broker-Dealer
Role will focus on RMBS, CMBS, CLO transactional matters
New York
Permanent
USD165,000 - USD200,000
The VP Privacy and Cybersecurity Counsel will be a key member of the Tech, IP & Privacy team. This role will advise on a wide range of privacy legal matters.
Hybrid role with 3 days in office 2 days WFH
Role will focus on privacy law, cybersecurity and data protection
New York
Permanent
USD22,000 - USD400,000
The Senior Director of Privacy will report directly to the Chief Privacy Officer of a financial services institution, and will be responsible for defining and executing the enterprise privacy program. This is a high-level, mission critical role that requires SME in privacy laws and regulations.
Reporting directly to Chief Privacy Officer
Role is integral in developing global privacy strategy and execution
New York
Permanent
USD175,000 - USD250,000
The Associate Legal Counsel will sit in our investment banking client's NYC offices and report directly to the General Counsel. This role will have a primary focus on employment law matters and have the ability to broaden into other areas of the law.
Join the fast-growing legal team of top boutique investment bank
Hybrid working environment
New York
Permanent
USD300,000 - USD550,000
Very exciting opportunity for a candidate to join top tier investment bank as a VP of Legal. The candidate will provide legal guidance and support to the firm on a broad array of venture capital investment management-related legal initiatives. Reports directly to CEO. This role can sit in NYC, San Francisco or Miami.
Exciting opportunity to join Investment Bank's family office arm
Advise on early stage investments, including VC funds
New York
Permanent
USD250,000 - USD300,000
The Assistant General Counsel will work directly for the firm's General Counsel and have exposure to all aspects of the firm's activities. This is a hands-on role with a successful family office and an ideal position for a talented and motivated attorney with diversified legal experience who excels in a collaborative environment.
Exciting opportunity to join investment company
Reports directly to General Counsel
New York
Permanent
USD180,000 - USD200,000
The Associate General Counsel will report to the General Counsel and handle a wide range of commercial bank lending matters.
Exciting opportunity to join a bank as in-house counsel
Role reports to General Counsel