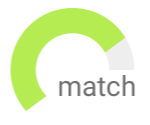 Haven't found the job you are looking for? Use our new smart new Job Match tool to find your next opportunity.
Charlotte
Permanent
USD125,000 - USD175,000
Top banking firm seeks 5+ years of experience in Reg Reporting or Banking Background
Competitive compensation
Opportunity for growth in well established firm
Charlotte
Permanent
USD170,000 - USD180,000
This position is responsible for performing the weekly customer reserve (15c3-3) and daily net capital (15c3-1) calculation for the US Broker Dealer. It will also requires supporting projects related to new regulatory requirements and ad-hoc work.
Leading Broker Dealer in Charlotte, NC
15c3-3 and 15c3-1 Experience Required
USA
Permanent
USD175,000 - USD240,000
Well-established and rapidly growing crypto/defi company focused on bringing back fair banking services to the consumer is looking for a Director of Treasury/Liquidity Risk to join their rapidly growing Risk team.
Director Role in Liquidity/Treasury Risk at a Rapidly Growing Crypto Company
Remote
Charlotte
Permanent
USD90,000 - USD120,000
You will be the main point of contact with customers working in Futures & Options and OTC clearing. The main function of the role is to facilitate client support with trade/position management, relationship management, and field market/product inquiries across the derivative space.
Reputable Financial Services Firm
Competitive compensation package
USA
Permanent
USD115,000 - USD125,000
The Credit Risk Review Associate will be responsible for the independent assessment of the asset quality of the bank's wholesale lending portfolio.
Opportunity within Credit Risk Review at a top-tier bank.
Exposure to multiple industry sectors with a focus on Leveraged Lending.
Raleigh
Temporary
USD114,391 - USD125,934
The team is engaged in conducting Data Control Assessment on CCAR Regulatory Reporting as well as data certifications and attestations on Critical data elements (CDE's) and associated data controls owned across various line of businesses within Investment Bank. This is part of an exercise to meet IB compliance for projects and other regulatory requirements.
Leading Financial Services Firm in New York, New York!
Competitive Rate, Long Term Contract!
USA
Permanent
USD150,000 - USD190,000
The Strategic Pricing Manager will play a critical role in discharging the Strategic Pricing team's responsibilities and contribute significantly to achieving the Firm's financial objectives. This role will focus on the Firm's response to client requests for proposals (RFPs).
Remote position within a well established Law firm.
Opportunity to make a significant impact on a leading global law firm