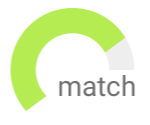 Haven't found the job you are looking for? Use our new smart new Job Match tool to find your next opportunity.
The Business Analyst will be responsible for the identification and document of business requirements and working closely with stakeholders across the business. This person will collaborate with technical leadership and the development team to identify standardized and efficient solutions that enable the business to operate at scale. This is a long-term contract role.
Growing Retail Events Company
Seeking Business Analyst
The primary responsibility for this position is to provide day-to-day functional support to the company's Manufacturing plant users. Assess business needs and formulate solutions through the use of Oracle EBS or other applications.
Multinational Manufacturing Company
Organic Growth based on performance
The SAP SD, EDI, CRM, is responsible for serving as a liaison between the business community and the IT organization. To collect, analyze, develop, document, communicate business requirements, and support user testing to achieve business goals. The ideal person would have SD/MM with EWM a +++.
Multinational Green Company
Organic Growth Based on Performance
Oak Park
Permanent
USD85,000 - USD110,000
Opportunity to join a rapidly growing renewable energy, development and investment firm as they continue to expand across the US. This person will partner with the CEO & COO providing key support and analysis critical to substantial business decisions. This person will have the opportunity to gain exposure to all elements of the business from finance, operations, marketing, sales, development and R&D.
Rapidly growing, renewable energy firm
Provide key support and analysis to the CEO & COO