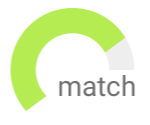 Haven't found the job you are looking for? Use our new smart new Job Match tool to find your next opportunity.
Jointly responsible with the Project Manager for the overall success of the project. Responsible for meeting schedule, controlling costs, and managing manpower and equipment (if applicable) on assigned project. Provides continuous hands-on field supervision of all construction operations.
Competitive pay and benefits, strong work load
Advancement opportunities
Excellent opportunity to work for one of the Allentown-area's premier General Contractors! This reputable company boasts a positive company culture, an excellent work/life balance, and a strong pipeline of diverse projects.
Top growing company, strong pipeline
Room for personal development
Seeking a dynamic Project Manager with 5+ years commercial construction experience with a focus on restaurants, retail
Well known company
Great Benefits
Superintendent that is capable of running a project from cradle to grave.
Advancement Opportunities
Competitive base salary
Responsible and accountable for assisting with the supervision of the entire site, all subcontractors and building construction process. Helps to provide a safe work environment, inspects work of subcontractors, documents work done, punches-out finished units, and completes any work that is not contracted out.
Well established company with a solid future pipeline and multiple projects.
Great benefits and compensation
This Pittsburgh-based construction company is a leading General Contractor/Construction Manager, They are a leader in the Pittsburgh market with many excellent clients and a steady pipeline of commercial projects.
Competitive pay and benefits, strong work load
Advancement opportunities
This Allentown-based construction company is a leading General Contractor, established more than 35 years ago. They are a leader in the Allentown market with a track record of excellent clients and a strong pipeline of diverse commercial projects
Top growing company, stability, competitive benefits
Room for personal development