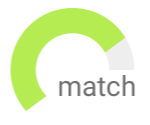 Haven't found the job you are looking for? Use our new smart new Job Match tool to find your next opportunity.
Allentown
Permanent
USD110,000 - USD140,000
MPI does not discriminate on the basis of race, color, religion, sex, sexual orientation, gender identity or expression, national origin, age, disability, veteran status, marital status, or based on an individual's status in any group or class protected by applicable federal, state or local law. MPI encourages applications from minorities, women, the disabled, protected veterans and all other qualified applicants


Opportunity for an individual looking to join a growing, global firm
Outstanding collaborative work environment with future growth opportunities
Levittown
Permanent
USD50,000 - USD55,000
The Staff Accountant will directly support the Controller and will be a key player in developing all Accounting and Finance procedures for our client. This role will provide the ability to enhance a candidate's skillset at the operational and plant level.
Opportunity for an individual looking to join a growing, global firm
Outstanding collaborative work environment with future growth opportunities