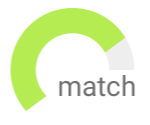 Haven't found the job you are looking for? Use our new smart new Job Match tool to find your next opportunity.
Brooklyn
Temporary
USD220,000 - USD250,000
Our client is looking for an interim CFO to join the team. This role has the potential to go permanent, and candidates would be required to go into the office 2 days a week. Successful candidates must be fully vaccinated. Prior non profit experience is essential.
Well known non-profit organization based in Brooklyn
Are looking for an interim CFO to join the team
New York
Permanent
USD90,000 - USD95,000
As the HR Director, you will be overseeing all HR functions, enforcing policies and managing a growing HR team. Also, the HR Director will support employees globally while working a hybrid work model in the New York City area. You will be responsible for initiating, building and sustaining relationships, delivering HR solutions, identifying new business opportunities, supporting the development of the growing team.
Room to grow within company and excellent company culture
Are you looking to own HR functions and processes, while managing a team?
White Plains
Permanent
USD160,000 - USD175,000
This role will be responsible for managing the Talent Acquisition team. They will be responsible for strategy, full cycle recruitment(corporate executive level roles) and leading team members.
Management position leading a team
2 days a week in office
Manhattan
Temporary
USD140,000 - USD150,000
The Associate Director, US Benefits & Employee Services, for a period of one year. The AD will provide support and leadership to ensure seamless delivery of US benefits and programs for all employees in a multi-location environment.
Robust opportunities to learn and grow with professional development allowances.
Premium benefits and perks that emphasize well-being and work/life balance.
Manhattan
Permanent
USD150,000 - USD160,000
A director of total rewards looking to come in to a non-profit and create a role from the ground up. 2 days a week in office with a team to support the process
Director of Total Rewards for an incredible non-profit!
Creating a new role from the ground up for a mission based copany
Manhattan
Permanent
USD80,000 - USD90,000
Work from home
This HR/People Manager will handle the full scope of internal organizational health impacting talent development, long-term initiatives, seasonal projects, and more. This individual will partner closely with the VP of HR to affect change and support the growth of the organization's North American presence.
Amazing opportunity to support a global non-profit working to end child hunger.
Hybrid work schedule with 2 days in-office based out of FIDI NYC.
New York
Permanent
USD60,000 - USD70,000
The Social Media Associate will work with the Director of Digital Strategy to update social media platforms at a well known not for profit organization located in both New York City and Washington D.C.
Please note this job has an opening in New York City and Washington D.C.
In office 3 days a week.
New York
Temporary
USD60,000 - USD650,000
Support the VP of Communications within a Non-Profit Organization. The duties include an array of administrative tasks.
Hybrid work schedule that is temp to perm based off of performance
Seeking an Administrative Assistance with 3-4 years experience
Manhattan
Permanent
USD80,000 - USD95,000
Our client is seeking an experienced individual looking to branch into the non-profit sector. This person will work directly with board of directors to ensure all standards, practices, and systems of control align with international laws and regulations.
Hybrid work structure
Ability to join an established non-profit organization
Manhattan
Permanent
USD85,000 - USD100,000
The HR Generalist will report into the Director of HR and own the full benefits and payroll cycle for both exempt and nonexempt employees This role will be a pivotal point of contact for the employee population for questions on benefits, payroll, employee relations issues, and developmental feedback while being actively involved in DE&I initiatives.
Support a Mission-driven organization focused on education equity.
Outstanding in-office HR Generalist opportunity with top tier benefits package.
Create job alert to receive Director jobs via email the minute they become available
New York
Temporary
USD41,991 - USD49,916
This role supports the Director of Development, requires database knowledge.
6 Month Contract 2-3 days in office in NYC
Large non-profit.
Washington
Temporary
USD41,596 - USD51,996
Seeking a Communications Assistant to support the Director of Marketing and Communications at a leading non-profit organization. This role can be located in the Greater NYC or DC areas on a hybrid schedule (relocation is not available). This is a contract 6 month assignment, with the potential for a long-term opportunity.Candidate & applicants should be immediately available to begin.
6 months with the potential for permanency!
Must be located in NYC or DC areas
New York
Temporary
USD43,676 - USD47,836
Administrative, communicative and logistical service support for the Director Of Education. This is a hybrid role, one day a week is remote.
Opportunity to work hybrid.
New York City
Manhattan
Permanent
USD65,000 - USD80,000
The Grant Accountant will beresponsible for maintaining continuous compliance with federal, and state requirements for accurate and timely reporting on expenditures of funds for grants. This role will report to Director of Grants Accounting, and work with the other leaders on the team. The Grants Accountant is responsible for all accounting, billing, receipting, reporting, and ensuring compliance with Federal and State regulations.
Competitive Salary
Growth Opportunities
New York
Permanent
USD70,000 - USD75,000
The Recruitment Specialist collaborates closely with the Director of Recruiting to provide a positive experience for candidates and hiring managers throughout the recruitment processes. This role is responsible for full life cycle recruitment for positions throughout our organization
Competitive Salary and Benefits
Hybrid Work Model
New York
Temporary
USD51,996 - USD60,315
This opportunity is a great start for someone with experience in email marketing. This position would work closely with the Senior Graphic Designer and Director of Communications.
Remote opportunity.
Large non-profit opportunity.
Manhattan
Permanent
USD100,000 - USD115,000
The Senior Compensation & Benefits Analyst will report directly to the Director of Global Compensation & Benefits. You will have the opportunity to work both independently and collaboratively in this role. You will conduct benchmarking analysis to develop job levels and compensation targets to support the strategic growth of the organization.
Global Non Profit doing amazing work around social justice & human rights
Fully paid for benefits, 10% match on 403b, tons of flex to work from home
New York
Temporary
USD56,155 - USD58,235
The Grants Associate will be the Board Liaison and work directly with the Executive Director. The ideal candidate will have experience in grant writing, fundraising, and institutional/individual giving. This role is for a dynamic candidate who can wear many hats.

This role is fully remote, but will be asked to join their NYC office multiple times a month for team meetings. This role is contract to hire, based on performance.
MSW is required.
Vaccination required.