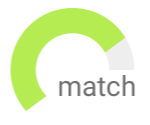 Haven't found the job you are looking for? Use our new smart new Job Match tool to find your next opportunity.
Detroit
Permanent
USD140,000 - USD200,000
Join a GC ecperience record-breaking growth while maintaining a tight knit culture focused on employee development and work life balance. Great pay and benefits as you oversee a team of project managers.
A general contractor with 50 yrs of history is adding a key member to leadership
National presence with projects ranging from $2M -$150M
Detroit
Permanent
USD190,000 - USD210,000
The VP of Finance North America - Divisional CFO will be a key leader on the executive leadership team, and be responsible for the leadership, direction, and management of the North American finance and accounting team. The VP of Finance will report to the North America CEO and serve as a strategic business partner. This individual will be a potential successor to the current North America CEO in roughly 3-5 years. Location Mansfield, OH area.
Global Fortune 500 Manufacturer
Successor to the current CEO
Detroit
Permanent
USD130,000 - USD160,000
The Electrical Engineering Manager will manage a team of product development and product design engineers focusing on electrical components and systems. This person must have a proven track record in design, product development, validation and testing, and product launch preferably with electric vehicles and electrification. Must have automotive/transportation experience. This is a highly visible role report to the VP of Engineering.
Electric Vehicle EV OEM
Leadership position with a fast growing EV disrupter
USA
Permanent
USD150,000 - USD170,000
Michael Page is partnered with a tech / Higher Education start up HQ'd on the East Coast to assist in the hiring of a Director / VP of Finance. The role will suit finance professionals with around 10 years experience with a CPA.
Opportunity to build a finance function for an innovative start up
Equity and bonus available
USA
Permanent
USD175,000 - USD240,000
Well-established and rapidly growing crypto/defi company focused on bringing back fair banking services to the consumer is looking for a Director of Treasury/Liquidity Risk to join their rapidly growing Risk team.
Director Role in Liquidity/Treasury Risk at a Rapidly Growing Crypto Company
Remote
Detroit
Permanent
USD180,000 - USD210,000
The Sr. Engineering Manager will report to the Director of Engineering and New Product Introduction and oversee an engineering team of 15 people including 5 direct reports. This team is focused on low volume design and manufacturing of high-performance custom-tailored products for automotive performance for motorsport and aftermarket. The Engineering Manager will be customer facing and have ownership of the opportunity pipeline as well.
Leading Global Automotive Supplier
Highly Visible Customer Facing role for High Performance Automotive
Detroit
Permanent
USD90,000 - USD120,000
The Plant Controller will manage all aspects of finance and accounting at a manufacturing plant and report to the Plant Manager and North America Managing Director. This is a large global manufacturer with manufacturing plants all over the world servicing large global OEM customers. This position is located in Southern Kentucky. Relocation assistance is available if required.
Global Automotive Supplier in High Growth Mode
Relocation Assistance Provided
Detroit
Permanent
USD130,000 - USD160,000
The Sr. Manufacturing Engineering Manager will be responsible for leading a team of 45-50 people including advanced manufacturing engineers, project engineers, production engineers, maintenance, and tooling engineers. The Sr. Manufacturing Engineering Manager will develop and implement manufacturing processes and standards for a manufacturing plant with over 1,000 employees.
Full Relocation Package Available and Offered
Highly visible role leading an Automotive team of 45-50
Detroit
Permanent
USD100,000 - USD130,000
Our client is hiring a Preconstruction Manager/Estimator to join their growing Precon Department. They are offering a structured career path with direct opportunities to advance your career to a Senior Estimator or Director of Preconstruction roles.
Their management style is open door with a culture of mentoring team members.
Our client outfits their team members with the most current technology available
USA
Permanent
USD80,000 - USD110,000
My client is one of the top restaurant developers in the country and they are looking for a Construction Manager to watch over the General Contractor and Superintendents on their projects. This person will work alongside the President and the Director of Construction to ensure that their projects are completed on time and under budget.
Great opportunity to work as an Owner's Rep
Above Industry Standard Benefits