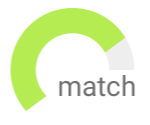 Haven't found the job you are looking for? Use our new smart new Job Match tool to find your next opportunity.
Manhattan
Temporary
USD106,071 - USD116,471
Our client - reputable non-profit organization - are looking for a HR business partner to join the team. This is a fantastic opportunity to learn across all areas of the business.
Hybrid Role - Based in New York
Contracted Role with Potential to go Permanent
Manhattan
Temporary
USD85,000 - USD100,000
Work from home
This Sr. HRBP role, reporting to the Chief Human Resources Officer, will partner with the Chief Content Officer and the Content leadership team, that oversees all strategic, organizational, and people-related matters that impact their group. This person will work collaboratively across HR and other business teams to provide meaningful HR solutions that enable targeted business outcomes and drive organizational, team, and individual success
Hybrid Role - Based in New York
1-2 days in office
Manhattan
Permanent
USD100,000 - USD110,000
A talent and relations manager looking to work with one of the top non-profit organizations. This person will be able to come into this newly created role and work with a team of mission-driven individuals in the office 2 days a week.
Talent relations and development position at a well-known non-profit
Hybrid 2 days a week in office with a growing team
Claremont
Permanent
USD110,000 - USD115,000
Human Resources Business Partner sought by large, international, NH based manufacturer.
Real opportunity to have an impact upon the businesses operations
5 days a week in-office (this is not a remote position)
San Jose
Temporary
USD50 - USD60
My client seeks a bright and dynamic Human Resources Manager to support and embrace their post pandemic remote and hybrid work models. The ideal candidate will be a people person who loves to solve problems, embrace the social aspect of work and lead people into the future of work.
Temp to Perm Opportunity
Work for Global Law Firm
Manhattan
Permanent
USD150,000 - USD170,000
Global Foundation with an amazing mission is looking for an HRBP to join their growing team. This role acts as a trusted advisor and coach to management and staff and builds effective partnerships at all levels of the organization. This position will start as a 1 year fixed term contract with the potential to go perm.
Global non-profit in Midtown, Manhattan with amazing mission
1 year contract (potential to go perm) hybrid 3 days in office
Manhattan
Permanent
USD250,000 - USD350,000
Established Private Equity and Hedge Fund is seeking a HRBP to help expand their New York City office. This person's responsibility's will include assisting in talent development processes, working with vendors regarding human resources consultancies and much more!
Competitive base salary and awesome bonuses!
Work for an established Hedge Fund in NYC
Manhattan
Temporary
USD124,790 - USD145,588
Reporting to the US Chief Human Resources Officer, the Human Resources Business Partner will work closely with practice group leaders and business services managers in providing full-cycle human resources support that aligns with Firm goals, assist in enhancing organizational effectiveness and offer high quality support to all colleagues.
Long term Temp Assignment
Work for a Global Law Firm
New York
Permanent
USD150,000 - USD160,000
This understated luxury French brand, which is being re-imagined by a new creative director, is a staple in the luxury fashion community. In business for over 100 years, this company is constantly re-imagining what's possible within the luxury goods space.
Be a part of history with a world-renown luxury brand.
Amazing employee benefits!
New York
Permanent
USD130,000 - USD150,000
Human resources business partner for global luxury brand. Responsible for developing and executing human capital strategy.
Innovative global luxury brand
Enticing company culture!
Create job alert to receive Human Resources jobs via email the minute they become available
Manhattan
Permanent
USD180,000 - USD200,000
This role is newly created and will be responsible for supporting the US employees. It will be responsible for going into the office 2-3 days a week.
Newly created position supporting the US employees
2-3 days a week in office in FiDi
Hoboken
Permanent
USD140,000 - USD155,000
This role was recently created to support a growing part of the business. It has high exposure within the organization and partners with senior leadership.
In office 4 days a week and remote 1 day
High exposure role with room for growth
Downers Grove
Permanent
USD90,000 - USD140,000
The Sr. HR Business Leader will be a part of the technology group supporting a large and important part of the organization's population. The Sr. HR Business Leader will partner with business leaders to help drive people and talent strategies, talent development and succession planning, skills development, talent attraction.
Highly visible HR Leader role with career growth
Working for a Global Manufacturing Leader