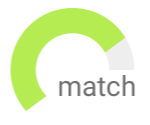 Haven't found the job you are looking for? Use our new smart new Job Match tool to find your next opportunity.
Boston
Permanent
USD120,000 - USD150,000
Our client, a market disruptor in talent acquisition SaaS, is looking for a Growth Marketer, the first role of its type, to push the company into the next phase of hypergrowth. You will work directly with the founding team to help build the world's leading early career talent acquisition marketplace by developing marketing programs and campaigns that support and exceed sales and revenue goals.
Connect students with the recruiting process and top organizations.
Be a foundational member of the marketing team and scale programs.
USA
Permanent
USD120,000 - USD150,000
The Senior Digital Recruiter will partner closely with business leaders to build an effective search strategy and advise decision making throughout the recruiting lifecycle. You will consult and build competitive offer recommendations, deliver verbal/written offers to finalist candidates, and effectively negotiate offer packages that secures top talent.
Can be fully remote (US based)
Competitive salary package, bonus, benefits, and unlimited room for growth
New York
Permanent
USD50,000 - USD70,000
Responsible for candidate generation and execution services for Page Executive business. This position will work with Senior Recruiters to source candidates previously unknown to the business, create and pitch all spreadsheets, progress reports, and presentation material, and help manage client relationships.
Fantastic career progression
Highly flexible working environment
Manhattan
Temporary
USD93,592 - USD110,231
My client is seeking an experienced, dynamic, recruitment professional. A seasoned
match-maker, skilled at the art of talent attraction and selection. Although this role will focus
primarily on technical roles, this Recruiter will be responsible for all recruitment needs at the
office, from entry-level to leadership, in any function of the business.
Temp to Perm Opportunity
Work for a startup
Manhattan
Permanent
USD60,000 - USD75,000
As a TA Coordinator you will play an integral part in supporting the talent acquisition function and contribute to the overall success of the team. Leveraging market data, a collaborative team environment, and outstanding relational skills this opportunity will be excellent for the curious self-starter that's excited to learn and develop a career.
Outstanding opportunity to develop your professional career in TA.
Highly engaged and friendly team environment focused on development.
Manhattan
Permanent
USD80,000 - USD120,000
Newly created role on talent acquisition team. Responsible for supporting their corporate recruitment needs.
Completely Remote - Can sit anywhere in the US
Rapidly growing tech startup, opportunity for growth!
Manhattan
Temporary
USD72,794 - USD83,193
Our client is looking for a talented recruiter who will be responsible for all recruitment needs from entry-level to leadership, in any function of the business.
Hybrid Role - Based in New York
Fast Growing Tech Startup
New York
Permanent
USD70,000 - USD90,000
You will be joining at a pivotal growth phase for the firm, in turn presenting a number of opportunities for the successful candidate. In this role, you will leverage existing client agreements of a global business while bringing on new accounts in profitable markets, specific to Technology.


High Growth Team in Tech Recruitment
Flexible working conditions (remote or office)
Houston
Permanent
USD40,000 - USD70,000
At PageGroup, we have five values that have always contributed to our success; take pride, be passionate, never give up, work as a team and make it fun. Our values are reflected in everything we do, it's what sets us apart.
Multinational Recruitment Firm
Organic Growth based on performance
Create job alert to receive Human Resources jobs via email the minute they become available
Atlanta
Permanent
USD80,000 - USD100,000
Are you interested in joining a cutting edge, market disrupting MarTech organization?
Are you interested in expedited career growth, including potential to build and manage a team?
My client has seen 50% YoY growth. They are looking to make 30-40 2022 US hires.
Be the first US based person on the Talent Acquisition team
Manhattan
Permanent
USD200,000 - USD250,000
The Senior Director of Global HR who will report into the SVP of People and be a member of the global HR Leadership team. The Senior Director will lead a team of 5 and be responsible for developing and implementing the people strategy across the U.S. and Latin America.
Member of the global HR leadership team for a rapidly growing, ad tech company
Hybrid model - 2 days a week in office (NYC), 3 days remote
Responsible for developing the people strategy in the US & Latin America.
International Tech Company
Rapidly Growing Company
This role will be responsible for all US People Operations functions.
Video Technology Company
Newly created position
Manhattan
Permanent
USD60,000 - USD70,000
Michael Page is hiring Recruitment Consultants across the entire business to work in all disciplines- including supply chain, finance, marketing, sales, human resources, etc. You will then have the opportunity to specialize by industry including but not limited to- consumer goods, not for profit, financial services, media, etc. No experience is necessary, but you must be ambitious!
HYBRID in NYC!
Plenty of room for career growth!