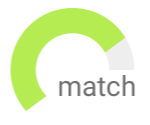 Haven't found the job you are looking for? Use our new smart new Job Match tool to find your next opportunity.
Langhorne
Permanent
USD80,000 - USD90,000
The Sr. Inventory Accountant will be a leader in creating, analyzing and reporting the inventory finance process for the manufacturing firm. The Sr. Inventory Accountant will oversee & lead everything from the daily reporting procedures/protocols to monthly/quarterly presentations. This role is a part of a larger team, and has clear growth/promotional path.
Opportunity for an individual looking to join a growing, global firm
Outstanding collaborative work environment with future growth opportunities
Warrington
Permanent
USD130,000 - USD185,000
The successful candidate will manage all financial tasks for the organization and maximize the return on assets by establishing financial policies, controls, and reporting systems. Timely identification and communication of risk is imperative as well as ability to be able to lead organization to understand financial implications of decisions and situations.
Great opportunity for growth-oriented accountant in a global company
Established quickly growing Pharma firm
An AS9100 certified Aerospace Manufacturing Company specializing in the fabrication of metal bonded and sheet metal assemblies is seeking a full time Quality Manager.
Huge career growth opportunity
Grow and build a team underneath yourself