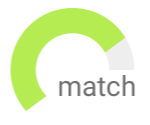 Haven't found the job you are looking for? Use our new smart new Job Match tool to find your next opportunity.
Lawrence
Permanent
USD90,000 - USD130,000
This position is responsible for key decision making on quality. They will act as an on-site resource to ensure that proper actions are being taken to screen for quality and conformity.
Join a powerhouse within the electronic supply chain
Looking for a quality professional with leadership and decision making
Bridgeport
Permanent
USD75,000 - USD95,000
The Quality Engineer is responsible for the development and evaluation of quality engineering & control initiatives for automotive programs.
Lead and manage manufacturing engineering team for an entire plant
Employee stock option plan
Lawrence
Permanent
USD100,000 - USD120,000
This client is looking for a Supplier Quality Engineer to be a key contributor to improving the supplier base. They will be responsible for helping drive supplier improvement efforts by utilizing internal departments, supplier quality staff, and by working directly with suppliers.
Ability to work with an industry leading company that is rapidly growing
Excellent culture & competitive compensation/benefits package
Lawrence
Permanent
USD85,000 - USD115,000
This position is responsible for contributing to continually improving the company's supplier base. You will be a key player in the supplier quality management process, acting as the main contact for suppliers for all quality issues.
A leading manufacturer in water quality solutions
Looking for a Supplier Quality Engineer with strong ISO/QS 9000 knowledge