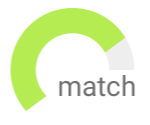 Haven't found the job you are looking for? Use our new smart new Job Match tool to find your next opportunity.
Bristol County
Permanent
USD80,000 - USD90,000
In this role you will supervise a medium sized shop team in a manufacturing facility.
You will plan and assign work, implement policies and procedures, help improve production methods, procedures, and work environment.
This is an excellent time to join this rapidly growing company!
This company manufactures cutting edge products revolving around sustainability.
Fall River
Permanent
USD80,000 - USD95,000
In this role, you participate in a variety of responsibilities where you will dissect the current manufacturing processes and use continuous improvement methodology to make changes to the process that will result in increased efficiency. You will be hands on in developing, evaluating, and improving manufacturing processes.
Exciting position in a well known manufacturing company!
This is a great opportunity for a well-rounded engineer and a problem solver.
Mansfield
Permanent
USD85,000 - USD110,000
The Manufacturing Engineer will be responsible for planning, directing and coordinating manufacturing processes with new medical device products looking to dominate the health-care industry. The essential product in development needs a candidate to assist with the performing process failure mode effects analyses FMEA's.
Opportunity for a well-known Med Device company
Industry growing organization excelling in a fast pace environment
Attleboro
Permanent
USD60,000 - USD80,000
I am working with a Global Med Device manufacturing business to recruit a Staff Accountant for their Attleboro based finance team. The role comes with a lot of potential for growth as well as a competitive overall benefits package.
Ability to grow your career with an international manufacturing business
Bonus and excellent overall benefits including $1500 sign on!
Attleboro
Permanent
USD80,000 - USD100,000
The Senior Quality Engineer will report into the Vice President of Quality and help coordinate quality assurance initiatives by organizing, facilitating and supporting continuous improvement activities and auditing of existing quality systems
Join an industry leading PCB Contract Manufacturer
Extensive Growth Opportunity
Attleboro
Permanent
USD90,000 - USD110,000
Maintain standards of inventory precision and controls.
Responsible for managing all aspects of controls, flows, and physical inventories for the business unit.
You will be the point of contact for everything related to inventory control and management.
This is a great time to join a global organization that is growing extensively!
Candidates with a background in inventory management should apply!
Bristol County
Permanent
USD140,000 - USD170,000
This individual will lead an engineering team focusing on the implementation, development, maintenance, and improvement of cost effecting manufacturing processes.
In this role you will oversee and provide support for manufacturing launches of new or existing products.
Join a global company that specializes in the automotive, EV industry
A great leadership opportunity with plenty of room to grow within the company