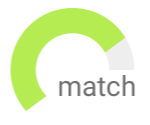 Haven't found the job you are looking for? Use our new smart new Job Match tool to find your next opportunity.
Middleborough
Permanent
USD160,000 - USD250,000
Are you a proven Sales professional with extensive experience in the industrial space?
Are you looking for a strategic VP role with a rapidly growing PPE/safety manufacturing company?
Join a fast-paced organization within the industrial space
Develop advanced sales skills and relationship skills in the field
Middleborough
Permanent
USD80,000 - USD95,000
This Process Engineer will be responsible for the improvement of processes, working cross-functionally with various teams, evaluating design changes and advancing manufacturing methods.
Are you a motivated process engineer who enjoys working on a small team?
Join a successful manufacturer that is a leader in custom solutions!
Bridgewater
Permanent
USD90,000 - USD120,000
Our client is looking for an innovative, creative and resourceful; skilled in identifying and solving problems. They will be a self-starter, self-initiated, highly motivated, a team player, and willing to participate cross-functionally. They must be an excellent communicator, both written and verbally. He/She must be willing to do whatever it takes to achieve goals and objectives.
Leadership opportunity with Terrific Growth Opportunity
Company is in a terrific spot due to recent product launch
Hanover
Permanent
USD70,000 - USD900,000
The Technical Services Manager is responsible for creative solutions customer projects, improvements in processes, technical support to operations and new product initiatives.
Seeking a chemical professional looking looking for a key impact player position
Excellent culture & competitive compensation/benefits package
Brockton
Permanent
USD110,000 - USD125,000
Reporting into the Senior Manager of Chemical Engineering, this Instrumentation & Controls Engineer will be involved in exciting projects with a wide variety of instrumentation & controls automation needs. This individual will build a control system for a brand new manufacturing facility and support and maintain the existing manufacturing facility.
Great opportunity to join a world class organization pioneering instrumentation
Design, specify & qualify a control system in a state of the art facility