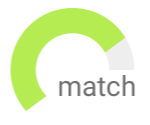 Haven't found the job you are looking for? Use our new smart new Job Match tool to find your next opportunity.
Jersey City
Permanent
USD130,000 - USD160,000
This leading broker dealer is looking for a finance manager to lead a team that is responsible for performing firm wide, budgeting, forecasting, and strategic planning for the organization.
Reports directly into the Controller of the Firm
Exciting opportunity to manage a small Finance team at a growing Broker Dealer
Great Tax Manager opportunity working within a smaller, collaborative tax team at a well-established, leading fund administrator! This position will include, but is not limited to, managing the tax function, review of tax preparation, and client-facing engagements.
Well-established, leading firm with $1.5 trillion AUM!
Smaller, collaborative tax team with growth opportunities
Jersey City
Permanent
USD100,000 - USD105,000
The Risk Tech Delivery Team supports the Bank's Risk & Investment Portfolio Management team. Software Developer will design, develop, implement and maintain software as well as serve the data needs for the team's Product Owners and stakeholders.

*Client can't offer sponsorship. Must be comfortable working partially onsite in Jersey City, NJ.

Email resume to LauraDonald @ MichaelPage.US.com.
Globally recognized leading in financial services! Top Tier Firm!
Guaranteed opportunities for advancement and growth!
Excellent opportunity to work for one of Jersey City's premier General Contractors! This reputable company promotes a positive company culture, an excellent work/life balance, and a strong pipeline of diverse projects. They are looking to add an Estimator to their commercial construction team who will grow within the department to help lead the pre-construction team. If you have at least 5 years' estimating experience, and would like to join this reputable firm, apply today!
Advancement Opportunities
Competitive base salary
Jersey City
Permanent
USD90,000 - USD100,000
The HRIS function is critical to the operation of HR and integral to the effective support of employee lifecycle processes through enabling technologies and reporting. The HRIS Specialist will ensure ongoing configuration, maintenance and user access of the Workday HCM platform.
Career Growth
Competitive Salary
A global financial services firm is in need of a benefits assistant in preparation for the upcoming open enrollment period.
This is a temp to perm opportunity! Candidates must be able to start as soon as possible!
A global financial services firm
is in urgent need of a Benefits assistant
An international fashion and apparel company is urgently seeking an HR coordinator to oversee all recruitment/onborading efforts. The candidate must be available to work in person.

This is a temp to perm position.
An international fashion and apparel company
is urgently seeking an HR coordinator to oversee all recruitment/onboarding
Jersey City
Temporary
USD135,189 - USD259,980
The OTC Clearing program is intended to build the core backbone for the OTC real time clearing technology, covering Trade STP (e.g. trade flow management, allocations, clearing, booking) and reference data for the OTC business, as well as MIS/CRM capabilities needed to run the business. A major ongoing initiative is to build out the clearing platform with a scalable and resilient architecture to support high trading volumes and new business requirements.
Leading bank looking for top tier OTC Clearing IT business analyst ASAP!
Long term contract with guaranteed opportunities for advancement and growth!
Our client, a large Construction Management firm, is looking for a Construction Superintendent to manage industrial/warehouse projects throughout Central & Northern New Jersey.
Career Opportunity
Ground Up Construction - Industrial/Warehouse
New York
Permanent
USD80,000 - USD110,000
As Residential Underwriter you will be working out of the bank's Astoria, New York or Union City, New Jersey office. You will be utilizing your experience in residential underwriting and the NY market to manage a growing portfolio.
Looking for an experienced Underwriter to join a top-notch team
Join a team that believes their people are their most valuable asset