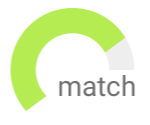 Haven't found the job you are looking for? Use our new smart new Job Match tool to find your next opportunity.
The Operations Control Manager will be responsible for collaborating with stakeholders to develop, improve and implement operational processes and procedures. They will review controls for existing risk stripes and develop controls for identified potential risk exposure.
Key role within a mid sized commodities firm
Autonomous position
The director is responsible for ensuring a sound project management discipline over all change management initiatives operating over the Regulatory Reporting processes. This role requires a SME in regulatory reporting that has experience at another bank driving a change program which has impacted regulatory reporting. Areas of the transformation are data remediation/ data integrity, UAT testing, Axiom system implementation, strengthen key controls
My client is hiring a Director and team to lead regulatory transformation
Lead the regulatory transformation initiatives at a leading bank
The VP of Regulatory Reporting will prepare various regulatory reports for the bank and liaise with head office in Japan.
Interact and work closely with the Legal Department and FR Y-10 Preparation Team to address all structural changes that relate to the FR Y-7 and FR Y-6 reports
Continue to improve the process control effectiveness of the FR Y-7, FR Y-6 reports, and other branches regulatory reports preparation
Regulatory Reporting role at a Jersey City based Investment Bank
Federal Reserve Regulatory Reporting role available at Investment Bank
International banking firm seeks motivated accounting professional preferably with Big 4 audit experience and a CPA certification.
Competitive compensation
Opportunity for growth in well established global firm
Jersey City
Permanent
USD100,000 - USD120,000
Focused on leading integrated audit projects covering multiple disciplines of the organization. Focusing on all phases of the audit life-cycle by managing and directing the daily activities of individuals assigned to work on those audit projects.
Grow your expertise within Audit
Flexible work from home capabilities