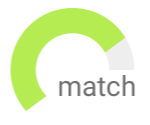 Haven't found the job you are looking for? Use our new smart new Job Match tool to find your next opportunity.
New York
Permanent
USD125,000 - USD175,000
The Marketing Director will help develop and implement the 360-marketing strategy in America's region for a global denim brand. The Director will aim to drive brand desirability and awareness by leading local execution of all marketing programs.
Career progression opportunities
Opportunity to work with a global retail company
Norcross
Permanent
USD120,000 - USD150,000
Technicolor is seeking a seasoned Marketing leader to help drive the strategy and implementation of marketing programs to increase awareness and demand for Technicolor's Connected Home Products and Solutions in the Americas region.
Exciting global team
Internal Startup
New York
Permanent
USD100,000 - USD120,000
As the Growth Marketing Manager, you will join the Marketing team and be responsible for leading all paid acquisition efforts.
Work with and up and coming client in the mental health space
Push the boundaries of innovation and creativity
The purpose of the Digital Marketing Manager in the Digital Marketing department is to lead the strategic development and successful execution of a best-in-class digital offering for partner business units. The responsibilities will sit across all capabilities that are currently managed Digital: social media, strategy, website, CRM, D&A, paid media.
Opportunity to join a giga project in Saudi Arabia
Managing strategic digital marketing developments on a global scale
Boston
Permanent
USD90,000 - USD120,000
The Partner Marketing Manager will be a "rockstar" B2B generalist, who can exercise their digital marketing acumen on direct campaigns to promote product and partner businesses. This person will report to the Senior Manager of Partner Marketing who was recently promoted out of this Partner Marketing role.
Join an exciting and fast paced organization with unlimited growth opportunities
Newly created role due to growth
New York
Permanent
USD150,000 - USD185,000
In this role, you will lead impactful customer engagement across various digital channels which support each stage of the customer lifecycle and buying journey. By collaborating with digital and product marketing teams, you will study the customer analytics and complement them with current and potential product offerings.
Lead customer acquisition and retention programs through digital engagements.
Develop nurture campaigns which support the customer journey.
Boston
Permanent
USD130,000 - USD140,000
The Senior Marketing Manager will be responsible for helping to build our brand and demand engine for the company through paid marketing campaigns and acquisition channels.
Chance to join a company in downtown Boston
Newly created role due to growth
Minneapolis
Permanent
USD70,000 - USD100,000
The Marketing Manager is responsible for working with the business development team, marketing coordinators, and construction teams to create compelling responses to RFP's to meet customer requirements and differentiate the firm from competitors; provide oversight of the entire proposal process including coordinating scheduling, assigning marketing resources, monitoring work-flow, and producing and approving final proposal documents.
Opportunity to work with a well-known firm
Great work/life balance
New Jersey
Temporary
USD93,592 - USD103,992
A cloud based Fin-Tech organization is seeking a Content Marketing Consultant to support a 6 month project for their NYC team. This role can be fully remote (locally to NYC) or in the NYC office. The ideal candidate will have at least 4 years of Content Marketing experience, ideally in the Fin-Tech industry.
Must have 2 or more years of experience working in marketing in fintech
Able to commit to a 6 month project
Thousand Oaks
Permanent
USD150,000 - USD165,000
The Associate Director will lead new product commercialization including product positioning and promotional strategies as well as adaptation of successful products from other global markets. They will provide strategic direction for all marketing initiatives including advertising, promotions, packaging, and sales.
Outstanding High Level Marketing role with global CPG company!
Competitive base salary, flexible work life balance, and full benefits.
Create job alert to receive Marketing jobs via email the minute they become available
New York
Permanent
USD150,000 - USD170,000
The Head of Demand Generation will own the growth marketing/demand generation channel strategy and campaign execution for paid search, paid social, organic search, and other lead generation campaigns. Reporting directly to the CMO, this person will be a team leader and collaborate with sales on pipeline strategies and strategize for all virtual and in-person events.
Join a global company with a startup culture and a collaborative team
Work-life balance, and exciting growth opportunities!
New York
Temporary
USD145,588 - USD166,387
The energy of a newsroom. The pace of a trading floor. We work hard, and we work fast - while keeping up the creativity and entrepreneurialism we're known for. It's what keeps us inventing and reinventing, all the time.
Bloomberg Media!
Marketing Contract Temporary Role!