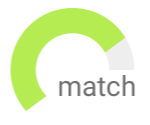 Haven't found the job you are looking for? Use our new smart new Job Match tool to find your next opportunity.
Arkansas
Permanent
USD120,000 - USD130,000
The Senior Procurement Manager - SRM & Risk Management will support the Senior Director - Strategic Sourcing in developing and implementing the International Indirect Spend Management (ISM) plan inclusive of a variety of Strategic Programs across multiple International markets. Build partnerships and support these markets to implement best practices to advance and enhance strategic sourcing capabilities.
Highly strategic role with a Global leader in its field
Lead role involving cross-functional collaboration with local and global teams
Jacksonville
Permanent
USD80,000 - USD81,000
Analyze inventory movements/adjustments and reconcile inventory between the Warehouse Management System (WMS) to SAP for various DCs within North America, Europe and Asia
Perform monthly accounting activities including the preparation of monthly journal entries, related account reconciliations and reporting
Opportunity for growth
Competitive salary and benefits
Calabasas
Permanent
USD90,000 - USD110,000
This role will work closely with all members from the Product Strategy & Supply Chain team and ensure that all aspects of global operations & imports are carefully and efficiently managed.
Excellent Opportunity with High-Growth CPG Company in North LA County
Fast-paced environment with strong salary, bonus, benefits, & growth potential