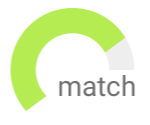 Haven't found the job you are looking for? Use our new smart new Job Match tool to find your next opportunity.
New York
Permanent
USD100,000 - USD140,000
This is a senior role that spans program and project management-related activities as well as Management Reporting within the department. The role enables the group to deliver a wide scope of deliverables, such as Business Resumption Planning, Information and Vendor Risk Reporting and Audit coordination.
Room to grow within the organization
Globally recognized leader in financial services!
Manhattan
Temporary
USD700 - USD1,000 per day
This is a Project Manager position located within the Regulatory Affairs Department
Highly reputable financial corporation
High growth potential
New York
Permanent
USD120,000 - USD140,000
Reporting to the Senior Vice President of Corporate Technology, this person will oversee the management of projects in Corporate Technology while driving technical goals forward.
Exciting role with fintech company in the alternative investments space
Amazing work culture with opportunities for growth
Manhattan
Permanent
USD95,000 - USD115,000
Our client is seeking an experienced individual to join the portfolio advisory team, and maintain current/prospective client relationships. This person will be the main point of contact for business development and marketing efforts of the firm.
Opportunity to join a dynamic compliance department.
Client will move quickly with a qualified candidate.
New York
Permanent
USD120,000 - USD140,000
The Business and Project Manager will have the opportunity to support multiple individuals across multiple areas of the business. They will complete both program and project management related activities.

Email resume and a summary of your relevant experience to JennaDecembrino @ MichaelPage.US.com.
Hybrid Opportunity
Lots of Exposure to Senior Leadership