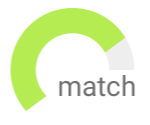 Haven't found the job you are looking for? Use our new smart new Job Match tool to find your next opportunity.
USA
Permanent
USD75,000 - USD100,000
2-3 days a week in the office for a heavy civil construction company. This person will come in and handle all recruitment needs for both union and non-union employees as well as corporate roles.
Talent Acquisition lead looking to join a growing company
2-3 days a week in the office, dependent on location
Schaumburg
Permanent
USD90,000 - USD125,000
As a Construction Project Manager for our client, you will be responsible for overseeing projects in a variety of spaces. For this company, you will immediately join a leader in the market that will allow you to grow your career.
Established company with a large pipeline of projects
Highly competitive salary and benefits
Schaumburg
Permanent
USD50,000 - USD70,000
Becoming an intricate part of the project management team, the Construction Project Coordinator will be responsible for providing administrative support to the director of construction and project management team through construction completion and closeout as well as some potential property management responsibilities. Great growth opportunity with an established general contractor!
Opportunity to learn different skills within construction and development
Extremely competitive compensation package with room for growth
Schaumburg
Permanent
USD120,000 - USD125,000
The construction superintendent will be responsible for working on retail interior projects. Some of our client's clients include the Chicago Bears, Aldi, Walmart, and multiple car dealerships.
There are phenomenal opportunities to grow within the company
Our client is a billion dollar contractor with an excellent pipeline of projects
USA
Permanent
USD120,000 - USD165,000
A fast growing Design-Build General Contractor in the Greater St. Louis Area is seeking a project manager who has experience working on distribution or light industrial projects. They would offer work from home flexibility, 401K match, vehicle allowance, phone allowance, extensive PTO, and much more.
Great Benefits and Remote Capabilities
Ability to Earn Lucrative Bonuses
USA
Permanent
USD110,000 - USD130,000
Do you have a commitment to safety and quality? The Traveling Superintendent will be an integral part of every project they work on and will have the ability to lead from the front and receive internal promotions after completing just a few projects on their own.
Above market per diem with lucrative bonuses per project
Strong PTO plan with access home twice a month
Schaumburg
Permanent
USD90,000 - USD125,000
Our client is seeking a Project Manager with 5-15 years of construction experience within the commercial market. The Project Manager will oversee management of all phases of projects (estimating, bidding, cost tracking to closeout) from cradle to grave. This individual must possess excellent leadership and communication skills and also one that is willing to mentor and educate Assistant Project Managers and Project Engineers.
Great opportunity to join the leadership team of a reputable Chicago GC
Dynamic leadership, inclusive culture, excellent project delivery, career growth
USA
Permanent
USD110,000 - USD150,000
Project Manager to lead healthcare projects for a general contractor with work around the United States. Work completely remote or in the office and visit the job site every so often to check on progress (1-2 times/month tops).
Completely remote work- work from home anywhere
Extremely stable employer with an incredible backlog of work
Schaumburg
Permanent
USD70,000 - USD85,000
Our client is a fast-growing full service General Contractor looking for an individual who works well as a team player and is ready to take on new projects. This person would need prior commercial construction experience to be considered and be ready to move into an APM role, with a fast track to a PM role.
$300M a year company, family culture, with lots of opportunity for growth
Competitive base salary, car allowance, bonus potential, PTO, work/life balance
USA
Permanent
USD80,000 - USD110,000
My client is one of the top restaurant developers in the country and they are looking for a Construction Manager to watch over the General Contractor and Superintendents on their projects. This person will work alongside the President and the Director of Construction to ensure that their projects are completed on time and under budget.
Great opportunity to work as an Owner's Rep
Above Industry Standard Benefits
Create job alert to receive Property jobs via email the minute they become available
Schaumburg
Permanent
USD120,000 - USD125,000
The interior construction superintendent will be responsible for working on large scale commercial interior projects. Some of our client's clients include the Chicago Bears, Rivers Casino, and a few luxury residential highrises in Chicago. The projects will range from $500,000-$3M.
There are phenomenal opportunities to grow within the company
Our client is a billion dollar contractor with an excellent pipeline of projects